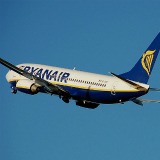 Customers flying with Ryanair will soon be able to take two bags on board as hand luggage – but many of the budget airline's notorious high charges will stay in place.
One of the key new measures includes giving passengers the option to carry a second, smaller bag, or a duty-free shopping bag, as well as a standard hand luggage case on a flight. (See our Cheap Flights guide to cut costs.)
Rivals Easyjet and Flybe only allow passengers to take a duty-free carrier bag and one piece of hand luggage on board.
Here's a full breakdown of the key changes. These are effective from the date you fly rather than the date you book.
From 1 November 2013:
Providing a booking is made by you directly on its website (ie, not by a travel agent), you'll have a 24-hour grace period from the time of you original booking to correct minor errors including spelling, names or routings
From 1 December 2013:
You'll be allowed to bring either a second, small carry-on bag (maximum size 35cm x 20cm x 20cm), or a duty-free carrier bag, alongside your main hand luggage bag.
The fee for reissuing a boarding card will be cut from £70 to £15, providing you've already checked in online beforehand. If you haven't checked in online, you'll still be charged £70 to do it at the airport.
From 5 January 2014:
Checking in a bag at the airport without having booked and paid for it online beforehand will be cut from £60 to £30 at the bag drop desk, and from £60 to £50 at the boarding gate for a standard 15kg bag on a standard low season flight. No other prices for checking in bags are changing.
The changes follow Ryanair asking passengers to give feedback to chief executive Michael O'Leary on its website.
It says these are the "first in a series of customer service improvements". But when we asked, Ryanair was unable to give us details of what further changes were in store.
'More bolt-ons than Frankenstein'
Despite these changes, you should still beware other fees if you book flights with Ryanair.
MoneySavingExpert.com's consumer analyst, Jenny Keefe, says: "Of course, any move that helps flyers is great. But Ryanair still has more bolt-ons than Frankenstein.

"You'll still pay up to £120 per return per bag stowed in the hold and, in very extreme cases, up to £320 if you turn up at the airport with a bag.

"Its charge of up to £70 per person, each way for airport check-in is especially fury-inducing.
"It's a good move to wipe it for those who've already checked in online, though anyone who forgets will still pay a hefty penalty.

"These things will make life slightly easier in some cases, but don't let your guard down. There are still several hurdles to get over."