A dad-of-two has won a £10,000 windfall and help to set up his own business after a tweet from MoneySavingExpert.com about 'comping' inspired him to start entering competitions.
Ricky Willis, from Tunbridge Wells in Kent, scooped the cash and became "the UK's smartest shopper" this month after he entered and won a competition run by discounts and voucher codes website Savoo.
A tweet from our MSE Community account last month alerted him to the hefty prizes people were winning from entering competitions.
After reading one of our forum users had won £20,000, Ricky, who writes a blog called SkintDad, tweeted us back: "£20k! OMG I need to start entering competitions! A win like that would clear half my debt!"
Then another Twitter user tweeted Ricky (pictured right with his fiance Naomi Wright) with the link to Savoo's competition – where he scooped the £10,000 windfall, along with help on turning his website into a business.
"I saw the tweet and thought to myself I could do with some of that," he says.

"I've entered a few competitions in the past and won a couple, nothing major like this though – it tops them all."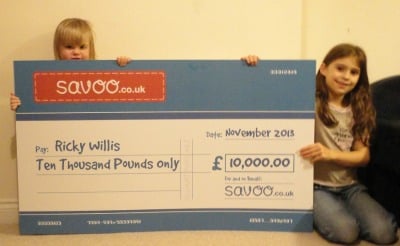 Entering competitions, or "comping" as it's known, can be an extremely lucrative hobby. Hundreds of dedicated forum users on MoneySavingExpert.com share the latest free-to-enter competitions, offer tips and dream of winning at the prizes on offer (see our 40+ Comping Tips guide for hints and tricks).
Success isn't guaranteed, but with the right mix of careful competition selection and a little bit of luck, you could end up driving around in a flash new motor, getting to take penalties at Manchester United v Chelsea (see the Comping success MSE News story), or thousands of pounds better off – which are just a few of the dozens of prizes won by MoneySavers.
How did Ricky do it?
To be in with a chance of winning, Ricky had to answer six questions on why he was the UK's smartest shopper.
On his SkintDad blog, Ricky describes his experiences of "being a stay-at-home-dad and at the same time trying to make the most of our lives by spending less, cutting back, living frugally but without living without".
A few weeks before the competition, he wrote a blog post called "Surviving On The Breadline" after his family were left with little to live on until his fiance's payday. "It received massive attention," Ricky says.
"From that point I decided to change my life and do all I can to create a bright future for my family. When I saw this competition and what came with it I knew this was my chance to create that life."
'I can create a bright future'
A week after entering Ricky was asked to travel to London with nine other entrants to face five judges. They questioned him about his money-saving abilities, how he gets the best value on a day-to-day basis, and his ideas on creating a blog about saving money.

Four days later, he received the life-changing phone call telling him he'd won £10,000, as well as 12 months' training, advice and support from Savoo on creating his own website.
Ricky says: "I was totally elated – it means so much to me to win. I can really build on this and create a bright future for my family and my children.
"I really see this as an opportunity and a stepping stone onto greater things."
Ricky plans to use the money to pay off some debts and invest the rest in his family's future. He now wants to earn a full-time wage from his website, and hopes his fiance can eventually work alongside him.
Need more inspiration?
Although Ricky spotted the Savoo competition on Twitter, many of the success stories we hear are from MoneySavers who won competitions posted by other users in our forum.
The biggest win we've ever seen came earlier this year when forumite yummymama landed a £22,000 cash prize and a trip to New York for four (see the forum thread for the full story).
So if you haven't had a win for a while, take these success stories as inspiration to carry on comping.
Ricky himself had entered a few competitions in the past and only won a couple of smaller ones before he scooped this big win. He isn't going to give up – he's now aiming to win a slow cooker.
His advice for compers is: "Don't enter so many that it becomes a chore. Be selective and only enter competitions you really want to win.
"Lastly, don't just disregard the competitions that need some effort, as these are the ones with the most reward!"