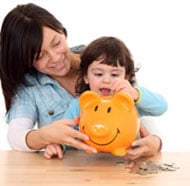 Child Trust Funds can be transferred into junior Isas from April 2015, the Government has announced.
The news is a huge victory for those who supported our campaign to fight for the up to six million kids with cash in CTFs.
These accounts, which were available to all babies born between September 2002 and January 2011, pay worse rates than junior Isas, available for children born outside these dates. (See our Child Trust Fund and Junior Isa guides for the top rates.)
Because CTFs are the poorer relation, millions of kids risked having their money locked into an effective financial prison, with no escape from poor returns.
Both accounts allow up to £3,720 (rising to £3,840 from April 2014) to be saved tax-free. CTFs were set up with Government vouchers of between £50 and £250, but parents are not given vouchers to fund junior Isas.
Money in a CTF or a junior Isa cannot be withdrawn until the child's 18th birthday.
Parents will have the choice of transferring their CTF to a junior Isa, or staying within the CTF system.
'Tweet George' campaign
The change comes after a consultation on the issue was announced in this year's Budget. The Treasury says "an overwhelming majority" of responses backed allowing transfers.
Chancellor George Osborne was silent on the issue in this month's Autumn Statement, so MoneySavingExpert.com encouraged users to tweet him and tell him to resolve the issue.
MoneySavingExpert.com founder Martin Lewis says: "Finally, the Chancellor has unlocked the prison up to six million children's cash has been locked in. The big surprise, though, is he didn't do this sooner. It was expected in the Autumn Statement.
"That miss meant he faced real criticism across the spectrum. Until that point, I doubt the Government realised the strength of feeling.
"That's why we started the 'tweet George' campaign – getting scores of parents to tweet the Chancellor to tell him to sort the mess out. It's interesting to see such a quick reaction.
"The news is a great benefit as CTFs are outdated accounts with higher charges.
"Compared to junior Isas, rates are lower and there's far less competition as accounts are closed to new joiners. This news should see an increase in rates and choice. Plus, it's a boon to parents with children of different ages who were forced to have different types of account."