Update: 18 February 2014: We tried to contact HotCrazyDeal on numerous occasions in January, but received no response. It eventually sent us a statement on Monday 17 February, which we have added below.
Facebook has pulled ads for a deals website after users complained it had taken cash from their bank accounts without delivering the goods.
HotCrazyDeal, which operates out of Panama, used Facebook ads to tempt people into signing up to a "free" seven-day trial of its site, which then costs £29.90 per month.
Its eye-catching offers included £1 for £30 of groceries at Asda, Tesco or Sainsbury's, £1 for £20 of pizza at Pizza Hut and £4 for £30 of credit for London's public transport Oyster cards. But these retailers have all told MoneySavingExpert.com these are not official deals.
Apple, Argos, and Drayton Manor theme park in Staffordshire have also disassociated themselves from HotCrazyDeal.
After MoneySavingExpert.com alerted Facebook to the issue, the social network pulled HotCrazyDeal's ads and account. It says it is investigating further.
'Money taken from my account'
Users have to enter their bank details on the HotCrazyDeal website, after which it says customers can spend the deal at the retailer and claim the cash back via PayPal, so long as they send a scanned copy of the receipt to the website.
But we've seen numerous reports on our forum of users taking up these offers and not getting their money back. Many also say HotCrazyDeal has taken money from their bank accounts during the "free" trial period.
Forum user billybiff wrote: "I have just noticed that £29.90 has been taken from my bank account after seeing an ad for an e-reader for £1." HLT82 said: "Since cancelling my subscription it has taken another £29.90 from my account – so that's two payments of £29.90 in one month".
Cupcakekid said: "I cancelled but have still been charged £29.90 to my credit card."
Take care with Facebook adverts
Many people would have seen HotCrazyDeal ads appear on their Facebook feed (see the third ad in the image below).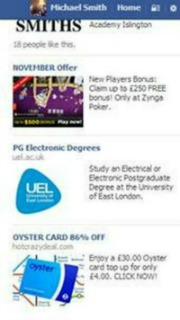 But just because a deal's advertised on Facebook it doesn't mean you can trust it. MoneySavingExpert.com deals expert Paloma Kubiak says: "With so many potentially bogus websites nestled between legitimate ones, it can be difficult to know where to shop safely.

"If you come across an unfamiliar site, check if it's a registered company by searching the Whois database or the UK Government's official limited companies register, Companies House.
"Also search for other people's experiences by using the company name and the word 'complaints' after it to see if online stories have surfaced.
"These methods aren't always fool-proof, but in general they should help you avoid scams before you spend. For more tips on how to protect yourself when buying online, see our Online Shopping guide."
How do I know if I've joined HotCrazyDeal?
You should be able to remember if you signed up to the website. Check your bank and credit card statements for monthly payments of £29.90, which look like they may have been taken by the firm.
How do I cancel?
If you've been caught out by HotCrazyDeal or any other subscription site, try to contact the company in question as soon as possible to cancel your subscription and the payment. HotCrazyDeal's terms and conditions say you're allowed to terminate your membership at any time.
If you can't get in touch with the company, or it's making it difficult to cancel, you can ask your bank to stop payments. If the website disappears, your bank or card issuer can also stop future payments.
Can I get my money back?
The Office of Fair Trading says when you cancel a subscription, you're not entitled to a refund of whatever you paid before you cancelled. However, companies may choose to offer refunds as a gesture of goodwill.
If you think you've unintentionally signed up to a subscription, or have been misled, you should report it to the OFT or to Trading Standards by calling the Citizens Advice consumer service on 0845 404 0506.
What does HotCrazyDeal say?
Katie Brooks, customer care manager at HotCrazyDeal, says: "We have experienced a technical problem whereby our system mistakenly re-billed the monthly fee to some of our members who had previously unsubscribed.
"Once discovered, the bug was fixed, we refunded all the impacted customers and issued an apology to each of them. We also took the necessary steps to prevent this from ever happening again.
"We also faced at some point a shortage of customer service agents which resulted in significant delays on our side in processing members' subscription, refund and claim requests. We have apologised for this operational mishap and have now fixed the issue.
"Memberships can be cancelled at any time by calling our customer service team at 0808 178 8940 (freephone, Monday-Fridays 9am to 7pm) or by contacting us by email at contact@hotcrazydeal.com."