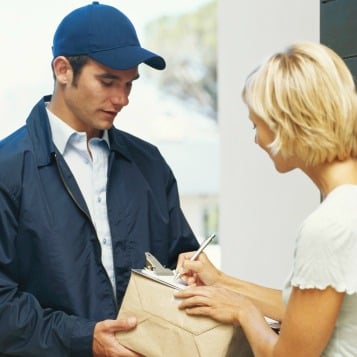 Yodel and Hermes have been named as the delivery firms with the worst service, according to MoneySavingExpert.com users.
In a poll of almost 9,000 MoneySavers, 58% who have had goods delivered by Yodel rated their experience as bad. Hermes came second, attracting a 30% 'bad' rating (see our Delivery Rights guide for full details on how to fight back if you're unhappy about a delivery).
Yodel delivers parcels for a host of major firms, including Amazon, Argos, Boots and Tesco Direct.
Last year angry shoppers were left frustrated by delivery giant for a second year running, after numerous reports of presents not arriving for Christmas (see the Shoppers vent fury at Yodel as Christmas deliveries arrive late MSE News story).
Delivery firms DPD and Collect Plus meanwhile fared the best, with 69% and 60% of their customers respectively rating them as good, and only 12% and 11% giving them a negative rating.
'Yet again Yodel has come bottom'
Martin Lewis, founder of MoneySavingExpert.com, says: "Yet again Yodel has come bottom of the delivery pile. It's not quite as hideous as last year when 71% rated it bad – but it should act as a serious warning to anyone thinking of using it, or a company that uses it.
"One of the problems is the indirect nature of delivery firms. Many of the worst firms we only come into contact with because retailers choose to use them to provide deliveries.
"It's time we put pressure on retailers to stop inflicting this type of delivery on us. Any customer who has an abominable delivery service should complain to the retailer and ask them to justify why they use firms with such dire reputations.
"Ultimately though, until we vote with our pockets and stop using firms that employ poor delivery agencies, that won't happen.

"One thing that is worth knowing, though, is that if you take time off work to wait for a delivery and it doesn't show, and then need to take another day off for the redelivery, then under the law of consequential loss you should ask them to recompense you for a day's lost income."
Delivery complaints
Here's some examples of what customers have said about delivery firms on Facebook:
Helen Merchant wrote: "Yodel is terrible.. left a package saying in the garden, actually left in a neighbour's garden five doors away... delivered 10 days later when the neighbour found it under the table soaking wet. Tried to speak to it but it does not have a number to call to speak to anyone about a missing item... Have never had good service from it."
Émilie Charlotte said: "Hermes put my parcel in the recycling box... on recycling day.", while Helena Jenks wrote: "Yodel – for throwing parcels into my shed when labelled 'fragile'. Hermes – for putting a card through door saying sorry to miss you when you were in!"
Here's how you voted:
Your experience of delivery firms
Firm
Good
OK
Bad
Yodel
22%
20%
58%
Hermes
46%
24%
30%
UK Mail
30%
44%
26%
City Link
34%
39%
27%
TNT
33%
47%
20%
Interlink
40%
44%
16%
DHL
50%
38%
12%
Parcelforce
54%
34%
12%
UPS
58%
30%
12%
Royal Mail
58%
30%
11%
Collect Plus
60%
29%
11%
DPD
69%
19%
12%
8,997 different people voted, choosing 44,585 options, as they could vote for multiple firms. Percentages may not hit 100% due to rounding.
What Yodel and Hermes say
A spokesperson for Hermes says: "We are the UK's second largest consumer delivery company, delivering almost 200 million parcels every year. We invest heavily in our infrastructure, staff training and customer service and, as a result, we regularly achieve a 95% first time delivery rate.
"We believe the majority of our customers receive good service but would like to apologise to anyone who has experienced difficulties.
"However we would also like to point out that MoneySavingExpert.com 's table ranks the carriers according to the 'bad' figure. Hermes achieved a 46% good rating putting us clearly in the middle when it comes to a good experience."
Yodel published the following response on its website this evening.