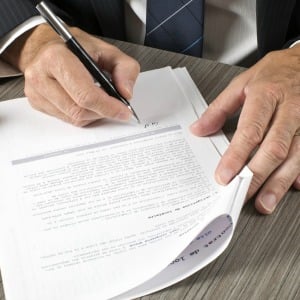 If you're over 55, live in England or Wales and have yet to make a will, then March is Free Wills Month.
The scheme, which takes place every March and October, is an opportunity for people to get a simple free will, drafted by a solicitor. Normally, you could pay £150 or more plus VAT for this.
It's backed by charities, so be prepared for your solicitor to ask if you'd like to leave a donation to a chosen cause when you die, although you're under no obligation to do so (see our Cheap and Free Wills guide for help getting a good deal).
You can also use the service to amend an existing will. Here's a Q&A of everything you need to know.
Do I need a will?
Whatever your age, if you've assets such as a home, savings, or a business, and people or others you'd like to look after, then consider making a will.
All sorts of problems can arise if someone dies without one. Unmarried couples aren't fullly recognised by the law, while there can be family arguments over possessions or custodial issues for children under 18.
Having a will is an effective way of making sure your assets are handled and distributed in the way you want when you die.
Do I qualify for Free Wills Month?
Anyone aged 55 or over can take part in Free Wills Month.
But you'll need to attend an appointment in one of the 19 towns, cities and counties taking part.
Which areas are participating in Free Wills Month?
The areas taking part in Free Wills Month vary each time the campaign runs. Here's the full list of those taking part in March:
Chichester/Worthing, Coventry, Crawley, Darlington, Eastbourne, Harrogate, Hastings, Kent, Liverpool, Middlesborough, Newcastle-upon-Tyne, Northampton, Peterborough, Sheffield, Slough, Sunderland, Wirral and Wolverhampton.
How do I take part in Free Wills Month?
Enter your postcode on the Free Wills Month website. It'll then come up with solicitors close to you which are taking part. Just call one to book your Free Wills appointment.
Once you've got an appointment, you need to download and complete as fully as you can a free document from the website, and take it to your appointment.
Is there a catch?
Solicitors usually charge up to £150 to write a will, although it can cost more for complex ones.
This fee is waived during Free Wills Month because the campaign is backed by charities. They hope you'll leave a donation when you die. You're under no obligation to do so, but it may be something you wish to consider.
Essentially, they hope your money will go to charities rather than solicitors.
The scheme also only covers simple wills. So if your affairs are complex, your solicitor's likely to ask you to pay a contribution to cover the extra time involved.
I'm not eligible for Free Wills Month, what can I do?
If you're too young to take part in Free Wills Month or don't live near a participating solicitor, there are a number of other ways you could get a free or cheap will.
Trade unions often offer free or heavily-discounted will-writing services to their members, while those who opted to get legal cover as part of their home or car insurance policy should check whether it includes a will service.
There are also a number of other charity-based schemes. See our Free and Cheap Wills guide for full details.