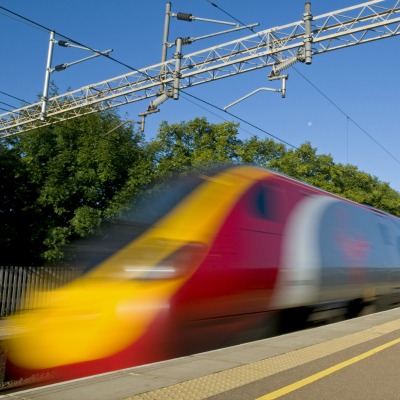 Planning to travel around the UK this summer? Trains are convenient, but they can be pricey. Here are seven top tricks to slash costs.
1. Book 12 weeks ahead for cheaper fares
Most people know if you book early, you'll get cheaper train tickets. But the key time to look is 12 weeks before you want to travel. That's when timetables are set, so most operators start to launch their advance tickets then – meaning you get the best availability on cheap fares.
So if you're travelling in August, now's the time to book.
2. Grab a (discounted) railcard

Annual national railcards usually reduce the bill on many fares by a third. They normally cost £30, so if you're spending over £90, it's worth it even for a one-off trip.

Yet until 2 June, you can get them for £27. Use the code SPRING10 to get 10% off all of the following cards:
Family & Friends Railcard. You and up to three other adults (two can be named on the card) can travel and get 30% off the fare, provided you're travelling with between one and four children, who get 60% off.
Two Together Railcard. New this year, it works for two people provided they're travelling together and are both named (and pictured) on the card.
Senior Railcard. This gets over-60s a third off fares.
16-25 Railcard. This also gets a third off. While the code above works, students can do a little bit better with 12% off (so it's £26.40) via Studentbeans.co.uk.
Also check for regional cards such as the Network Railcard, costing £30 (the 10% discount isn't valid on this one), which is covers journeys in southern England. Up to three adults can travel with you and get the discount, and up to four children get 60% off.
3. Get early booking discounts – late
It's well known that cheaper fares are available if you book tickets early, but you might not realise just how late you can book to still get a discounted 'early' fare. You can still save money the day before – it's all about availability. The golden rule is to never assume it's too late to try for an advance fare.
4. Singles can beat returns
Lots of top deals are only available on one-way fares. It's often cheaper to get two single tickets rather than a return.

5. Split tickets, not the journey
This is a great trick everyone should know about. Instead of buying tickets for the whole journey, getting tickets separately for different parts of the journey can slash the price – even though you're travelling on exactly the same train, at the same time, possibly in the same seat.
Split ticketing's perfectly allowed within the National Rail Conditions of Carriage. The only rule is that the train must call at the stations you buy tickets for.
One of the best examples we've seen was on a direct London to Durham return where the cheapest ticket was £301. Yet buying four singles for the same journey: London to York, where the train stopped, then York to Durham, and then in reverse, came to £82 for the same train at the same time – possibly even the same seats.
This is only an example. Savings vary by train – even an hour later, the same split may not work. So check each time, or use our free Tickety Split desktop tool or mobile app to find your split.
6. Look for hidden promos
Lots of train companies have hidden promotions buried on their websites. You won't find these if you're going through a ticket booking website, such as TheTrainline.com or RedSpottedHanky.

Southern offers 10% off off-peak tickets of you book before 1 June, while East Coast has 10% off some advance online fares and 50% off selected super off-peak tickets to London. On Southeastern, up to four kids can travel for £1 off-peak with an adult.
You can also sometimes get discounts off one-day tickets. The key to finding all these deals is timing it right, so always check the train company's website before you book.
There are also lots of vouchers and codes available that'll save you £100s.
You can get 50% off a second passenger ticket at the weekend on super off-peak returns with Greater Anglia and Northern Rail, either by buying online or mentioning the "Duo tickets" offer at a ticket office.
7. Not taking a train? Buy rail tickets to bag discounts
This sneaky trick sounds bizarre, but it works. National Rail offers 2for1 discounts on a host of attractions across the UK – just print a voucher and present it alongside a train ticket. Attractions include Ascot Racecourse, Alton Towers, London Zoo and Madame Tussauds (see its Days Out Guide website for the full list).

So if, for example, you want two tickets to London Zoo, as an adult ticket costs £24, then even if you aren't actually going by train, it's worth buying a cheap ticket to London on the way to take advantage of the offer.
You can also see our Cheap Train Tickets guide for more sneaky ways to save on fares.