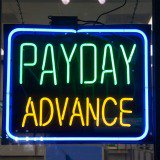 Payday lenders will no longer be able to roll over loans more than twice from today, while they also face tougher restrictions on taking money from borrowerers' accounts.
If lenders fail to comply with the new rules, the Financial Conduct Authority (FCA) can impose unlimited fines or revoke their licences. (See MoneySavingExpert.com's Payday Loans guide for alternatives if you're struggling.)
Payday loans, which can charge 5,000% APR, are now an industry worth billions. There have been many reports of people taking out loans of just a couple of hundred pounds ending up owing thousands after hitting repayment problems.
What are the new rules?
From today, payday lenders must comply with the following rules:
Loans can only be rolled over a maximum of two times. Previously, a loan may have been advertised as lasting for a month at a small cost. But it was often rolled over repeatedly, so it lasted much longer. That meant the hideous headline APRs, which many say are meaningless for monthly loans, became more relevant as the loan became longer, increasing the cost.


Firms can only take money from a borrower's bank account twice. Until recently, some lenders took lots of small sums out of people's accounts, sucking out customers' income and causing hardship. The FCA says the new rules will put customers back in charge of their payments.


Add a 'wealth warning' to payday loan adverts. Risk warnings now have to be placed on TV ads to highlight the problems late repayments can cause. Borrowers will also be directed to the Government-backed Money Advice Service (MAS) for free debt help. Since 1 April, payday firms have had to provide financial health warnings in emails and texts, as well as online.
The payday loan industry is currently being investigated by the Competitions and Markets Authority (CMA), with the results to be published later this year. The FCA will also consult on capping the overall cost of a payday loan this summer.
'Payday lenders aren't on your side'
MoneySavingExpert.com campaigns manager Wendy Alcock says: "Now the regulator's rules are in force, we'll be able to tell whether payday lenders can shape up to the closer scrutiny.
"The tales of fake lawyers we've heard recently don't breed confidence, but we're hoping the new rules result in a crackdown on unscrupulous practices by payday lenders.
"It'll be interesting to now see what the CMA investigation and imminent cost cap consultation from the FCA finds.
"Until then people need to remember that payday lenders are not on their side. The fluffy puppets are not there to look out for you. Look out for yourself – alternative and cheaper ways to borrow are available."
Additional reporting by Paloma Kubiak