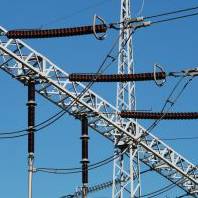 Energy bills could fall by an average of £12 a year from next April if proposals to cap the amount electricity networks can spend get the go-ahead.
Five electricity distributors – which operate the networks that bring energy into homes – have agreed with regulator Ofgem they will reduce their bill for upgrades and maintenance until 2023 to £17 billion (join our Cheap Energy Club to find the best tariff).
Initially, the five firms – UK Power Networks, Northern Power Grid, SP Energy Networks, SSE Power Distribution and Electricity North – proposed a bill in the region of £19 billion.
But now the firms have identified where they can save £700 million and Ofgem has targeted a further £1.4 billion in savings, which it says should be passed on to customers.
Electricity distribution accounts for 8% of an annual dual fuel bill, so Ofgem's plans could mean savings of £12 per year for users over the eight-year period.
A sixth firm, Western Power Distribution, had its business plan agreed by Ofgem last November.
Between them, the six companies operate the 14 power networks in England, Scotland and Wales.
Today's proposals are now under consultation for the next eight weeks. Ofgem will publish its final decision in November 2014.
'Plans will deliver better service'
Ofgem chief executive Dermot Nolan says: "As energy regulator, a core part of our role is to set price controls for these monopoly network companies.
"This is the only part of the energy bill Ofgem directly controls and our plans today will deliver better customer service and efficient investment at a lower cost for the customer."
But SSE Power Distribution says it is "disappointed with a number of elements" in the proposal, adding it is "already one of the most cost-efficient operators in Britain".