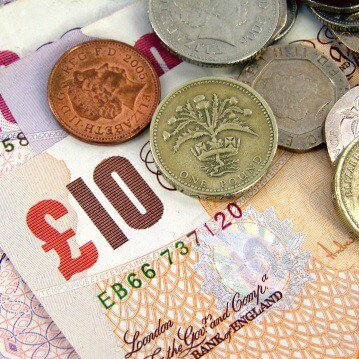 High cost short-term lender Provident is the latest firm MoneySavingExpert.com has found using dubious 'legal' tactics to pressurise customers into repaying their debts.
It comes as the issue of misleading letters is now being looked into by both a committee of MPs and a legal watchdog.
The letter we've seen from Provident appears to come from an independent solicitor – CK Edrupt & Co. But when MoneySavingExpert.com asked, Provident told us this was actually its "in-house recoveries unit", which it's used for a number of years.
It also says at the foot of the letter that CK Edrupt & Co is a trading name of Provident.
There's no suggestion this tactic is illegal, and the solicitor mentioned in the letter is regulated by the Solitictors Regulation Authority (SRA).
But using CK Edrupt & Co in the headed notepaper and by signing the letter using this business name only, it misleads the borrower into believing they're dealing with an external solicitors' firm, rather than the original lender.
Provident says CK Edrupt & Co ceased operating on 19 May this year.
The use of misleading letters came to light after payday lender Wonga was told to pay £2.6m in compensation after it threatened borrowers with fake lawyers.
Also, the Student Loans Company has come under fire from the Government after it was found to have sent graduates letters purporting to be from a debt recovery firm.
We've also reported how HSBC, Lloyds, Halifax, NatWest and RBS used letters that appeared to have come from independent solicitors, when they were actually from the banks themselves.
Here's a copy of the letter we've seen, which was sent by Provident Personal Credit. Click to enlarge.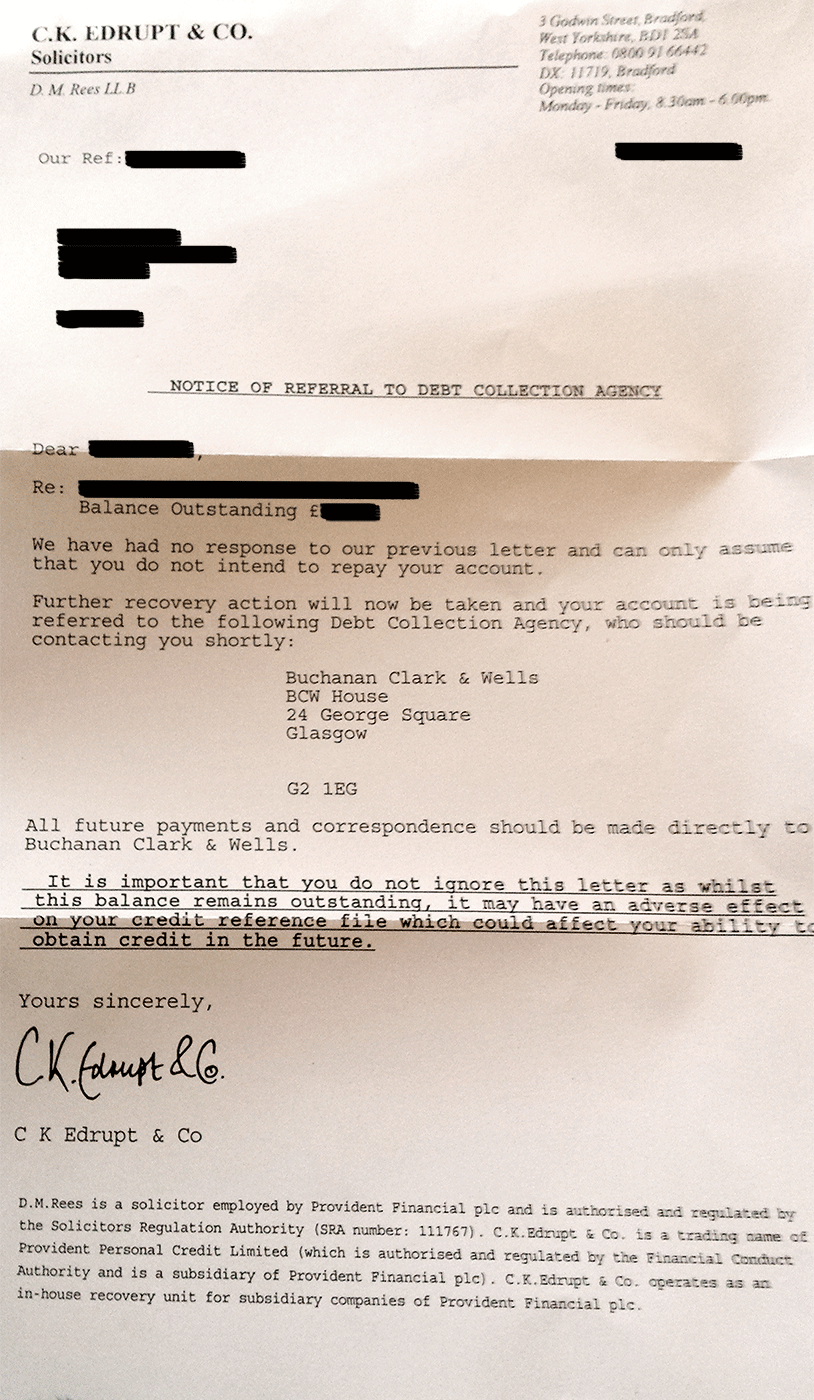 Crackdown on dubious tactics
The Solicitors Regulation Authority says it's reviewing a number of complaints from people who feel they've been misled by letters purporting to be from external solicitors, but which have actually been sent by the company they owe money too.
The watchdog has issued a warning reminding firms that they need to comply with its code of conduct, which says "solicitors are obliged to be clear about their status and relationship with the organisation seeking recovery of the debt".
It can levy fines of up to £2,000 or refer firms to a tribunal for greater punishment.
SRA executive director Richard Collins says: "We believe attempts are being made to mislead third parties – invariably individual debtors – that their case has been referred to an independent law firm to pursue the debt, when in fact it is the in-house legal team. We believe such approaches do not meet the requirements of the code of conduct."
Meanwhile, MP Andrew Tyrie, who chairs the House of Commons' Treasury Committee, has written to high street banks about the issue.
Tyrie says: "We need to know the extent of this practice. Banks have repeatedly assured Parliament that they are raising standards and now have robust procedures in place to bring consumer detriment to an end. It would be extremely concerning if consumers had been routinely misled."
"Customers should know who they're dealing with"
MoneySavingExpert.com campaigns manager Wendy Alcock says: "As one of the original high-cost credit lenders, it's no surprise Provident Financial has been sending its customers misleading debt collection letters.
"Why can't lenders just use their own logos on letters so people know where their debt has come from and who to contact to make repayment arrangements?
"We're starting to see some progress in the practices used by firms. As Andrew Tyrie says, customers should know who they are dealing with. His letters to the high street banks will hopefully help speed up improvements in this area."
What does Provident say?
A spokesman for Provident says: "CK Edrupt & Co operated as an equivalent to a private practice firm, owing professional fiduciary duties to the courts, which the courts recognised. This in turn created efficiencies in the litigation process which would not have been available had Provident sued in its own name.
"The Solicitors Regulation Authority was fully aware of CK Edrupt & Co and attention was drawn to the operation of the process each year during the practising certificate renewal process. CK Edrupt & Co had its own SRA number.
"The letterhead used by CK Edrupt & Co made it clear how the arrangement operated.CK Edrupt & Co was closed on 19 May 2014. This was a commercial decision taken by Provident Financial to change the methods it uses to collect outstanding debts owed to its subsidiary companies. Customers were informed of the change where applicable. Future litigation cases will be conducted using an external firm of solicitors."
How do I check if a solicitor/law firm is legitimate?
First, Google the name and address on the letter and see if you come up with any matches on the internet. If you don't, it could be an indicator the firm is fake.
If you're suspicious you should take the following action to check if the lawyer is legitimate. The only issue is while the individual lawyer listed on your letter might be, the firm may not be.
England and Wales: All lawyers must have a 'practising certificate'. If you're unsure, ask to see the certificate or contact the Solicitors Regulation Authority on 0121 329 6827. Alternatively, you can use the Law Society's Find A Solicitor tool, which lists all solicitors who currently hold a practising certificate, barring those who've asked to have their names removed from the directory.


Scotland: Lawyers are registered on the Law Society of Scotland's online directory, so you can use this to check.


Northern Ireland: Check the Law Society of Northern Ireland's online directory. If the lawyer doesn't appear to be registered, contact the Law Society for a further check on 028 9023 1614 (select option 4) or by emailing info@lawsoc-ni.org.
What should I do if a solicitor/law firm is fake?
If you've carried out the relevant checks, and you are sure the firm or individual solicitor isn't registered, you should do the following:
England/Wales: Report it to the Solicitors Regulation Authority on its fraud line (0121 329 6827), or email fraud@sra.org.uk. If you've not already been in touch, they'll first double-check if the solicitor is registered. It may then take action including opening an investigation or referring the case to the police, depending on the scenario. In some cases, you may be asked to refer it to the police yourself, in which case contact Action Fraud – the UK's fraud and internet crime reporting centre.


Scotland: Report it to the Law Society of Scotland on 0131 226 7411 (ask for the registrar's department when you get through) or by email to professionalpractice@lawscot.org.uk. They'll then open an investigation or refer the case to the police, depending on the scenario.


Northern Ireland: The Law Society of Northern Ireland won't investigate claims itself. Instead, report it to Action Fraud.
Should I respond to demands for money?
Whether you receive a letter from a real or fake law firm, it doesn't affect the fact you're still liable for any debts you owe. If you're struggling to repay, speak to a free debt advice agency for help in coming an arrangement with your lender.
See our Debt Problems guide for a list of agencies and how to get help.