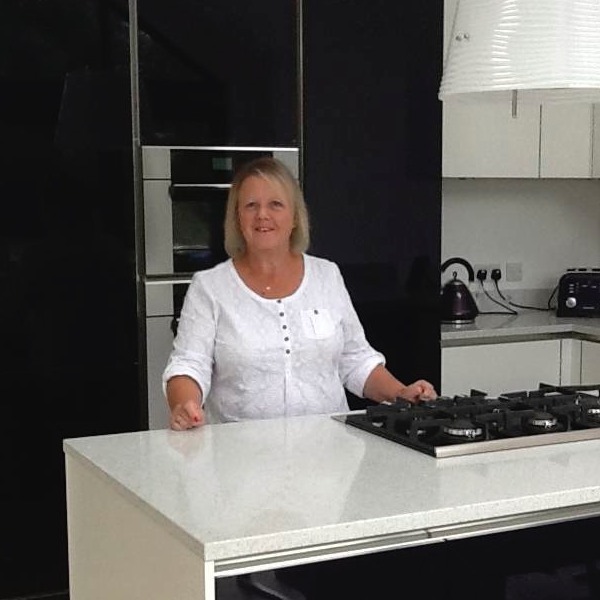 A savvy couple avoided losing more than £23,000 of their retirement savings after following MSE's tips and paying for the first £200 of their new kitchen with the husband's credit card.
MoneySavers Linda (pictured, right) and Neal Marriott successfully reclaimed £23,542.32 using Section 75 of the Consumer Credit Act 1974 after the company they paid to fit their dream kitchen went bust, leaving them without their kitchen or their money.
If you buy anything that costs between £100 and £30,000 using a credit card (not a debit card) then the card firm is jointly liable with the supplier if things go wrong (see our Section 75 Protection guide for more on this).
This vital protection applies even if you pay just a portion of the total on a credit card, as was the case with the Marriotts, who paid £200 with a Tesco Personal Finance credit card and then transferred more than £22,000 to the company directly.
Linda, 63, who worked in the insurance industry before retiring, says: "If I had not read on your site about Section 75, I would not have thought about paying £100 on a credit card as part payment for the two amounts we paid. Martin Lewis has always mentioned Section 75 and that's why we did it."
When the couple bought their bungalow in West Sussex, they began renovating it to make it their home for retirement. When it came to installing a new kitchen – they wanted a contemporary, purple glossy one – they decided to go with a company that they said had been trading since 2007 and seemed "reliable".
After agreeing the £22,400 price with the supplier in March 2013, Neal was ready to transfer the money. But luckily Linda, a long-time MoneySavingExpert.com user who had read our Section 75 Protection guide, persuaded him to pay £100 on his Tesco Personal Finance credit card when they transferred the first £9,000 from their bank account.
They made a second £100 credit card payment when they transferred the remaining cash to the supplier.
But in May, just four days before the kitchen was due to be installed, they received a text from the managing director to say the company had ceased trading and that they wouldn't be getting their kitchen, or their cash back.
The implications were disastrous for the couple. "We'd downsized and were renovating the bungalow and we had already spent a lot of money. This was our retirement money and for two months, we had nothing in our kitchen, just a microwave and kettle."
Tesco said 'no', but the Ombudsman ruled 'yes'
Neal, who works in the rail industry in Qatar, phoned Tesco in June 2014 to explain what had happened and lodged a claim under Section 75 of the Consumer Credit Act 1974 for breach of contract.
At first Tesco only refunded the £200 paid using the card and only under a different set of rules called chargeback. This works in a similar way to Section 75, although it works on debit cards as well. The key difference is that it's not a legal requirement (see our Visa, Mastercard and Amex chargeback guide).
The bank rejected the Section 75 claim and said it couldn't establish that the person they'd paid was the same person who owned the company that ceased trading.
So Linda took their case to the Financial Ombudsman Service in December 2013. A decision was finally made in May 2014 when the Ombudsman upheld Neal and Linda's complaint and ordered Tesco to pay them:
£22,195.71 for the cost of the kitchen that the couple did not receive.


Interest of 8% on the amount from 10 June 2013 – when Tesco should have settled the claim – to the settlement date.


A further £200 for the inconvenience caused.
The Ombudsman concluded: "It was not easy to get to the end of figuring out who was who and who was related to whom. However, I do feel that Tesco suspected there was a link all along and its actions have unnecessarily prolonged this case.

"I am satisfied there was a valid debtor-creditor-supplier link under Section 75 and that therefore, Tesco are liable for the breach of contract."

MoneySavingExpert inspired us to 'keep fighting'

Linda says: "Martin's always said to keep going with a claim. Tesco tried to say the name of the business owner was different to his real name so it wasn't the same person. But I kept going back on MoneySavingExpert and reading about Section 75 and I kept thinking, 'don't give up, keep going, keep fighting' as I knew we were in the right.

"But when we heard the adjudicator had found in our favour, I burst into tears. I just couldn't believe it. Although at times we felt like giving up I was so convinced we were right having re-read the information on your site and even quoting a case you had on there, that I kept going."

To anyone else in a similar position Linda says: "I would say to anyone, don't give up. Go on the internet and read as much as you can, there's always information on MoneySavingExpert - there's always something to help you. I can't thank your site enough."

Martin Lewis, founder and editor of MoneySavingExpert.com, says: "This story shows that while credit cards oft, and rightly, get a bad rap, used right they can be heaven sent.

"Section 75 is a powerful protection. As long as the goods cost between £100 and £30,000, pay any amount on the credit card and the card company is jointly liable with the retailer – regardless of where in the world you buy the goods. This is very powerful if the shop goes bust, but it actually means far more than that. You have exactly the same rights with the card company, so even if the goods are faulty and the shop is still around, if it's more convenient for you to ask for the card company to sort it, the law says you can.

"Even more powerful is the fact that if you have a dispute with a retailer, you would need to take it to court if it won't play ball. With the credit card company you can go to the Financial Ombudsman, and it doesn't just look at the law, it also looks at whether you are being treated fairly, in line with standard industry practice."

What does Tesco say?

A Tesco spokesperson says: "Tesco Bank has a legal obligation, along with all companies providing credit, to comply with Section 75 of the Consumer Credit Act 1974. For a transaction to be eligible for a refund under Section 75, we have to establish a clear Debtor (customer), Creditor (Tesco Bank) and Supplier (in this instance, Liebe Kuchen) chain.

"Based on the information supplied to us at the time of the initial complaint, and our own extensive research, we could not establish this link, as the customer's initial payment was to Mr Richard Simon, and not to Liebe Kuchen, the company supplying the kitchen.

"The Ombudsman's ruling stated that there was evidence to suggest that the director of RBKD (Mr Richard Simon) and Liebe Kuchen (Mr Richard Blunt) were the same person, allowing a Section 75 chain to be established.

"Whilst we do agree to a link between RBKD Ltd and Liebe Kuchen, we believed the credit card payment had been made to Mr Simon personally. As such, Tesco Bank had been unable to evidence this link using the information available to us at the time of our decision. All decisions made by the Financial Ombudsman Service are legally binding, and so we will be refunding this customer in line with their ruling."

Service are legally binding, and so we will be refunding this customer in line with their ruling."