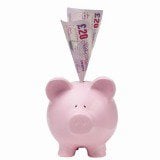 Savers aged 65 and over now have until 15 May to deposit money into Pensioner Bonds, as the Government has announced it's extending the scheme past its original £10 billion allocation.
Pensioner bonds first went on sale last month paying a market-leading rate of 2.8% for a one-year fixed-term and 4% for three years (see our Pensioner Bonds Guide for full details on how to apply and whether they're right for you).
But only £10 billion was allocated for savers at the time – enough for around 500,000 people if all of them made the maximum contribution of £10,000 into each of the two bonds. So MoneySavingExpert.com warned people to go quick if they wanted to save in them.
However the Government has announced it's extending the scheme until 15 May 2015 "due to unprecedented demand" and that this time round, there's no limit on the total funds available. It means every saver aged 65 or over who applies before 15 May will be able to deposit cash into a Pensioner Bond.
The Government expects a total of one million people to benefit from getting a Pensioner Bond and estimates that the total amount saved will be closer to £15 billion once the scheme is closed in May.
So far, £7.5 billion has already been deposited, with more than 610,000 savers buying the bonds since they went on sale. However the scheme has been hit with problems with savers reporting issues with NS&I's website and phone line at the time of the launch (see the Pensioner Bonds launched today MSE News story).
Go for the three-year option
If you're planning to put money into just one of the Pensioner Bonds, even if you only want to lock cash away for a year, it's best to go for the three-year option.
It pays 4% compared to the one-year bond's 2.8%, plus if you withdraw the cash early, you only lose 90 days' worth of interest. So take cash out of the three-year bond after a year, and you'll still earn 3%, which beats the one-year bond.
Compared to the rest of the market these accounts also pay the top rates. The next best one-year fix pays 1.85% in comparison, while the next best three-year fix pays 2.5%.
'Boost to hardworking peoples' financial security'
Chancellor George Osborne says: "Our 65 plus pensioner bonds have been a huge success, and are already helping hundreds of thousands of older savers who have done the right thing, by boosting the return on their savings and securing a more comfortable financial future.
"I want to ensure as many older savers as possible can take advantage of these market-leading bonds, which is why I'm confirming today that potential savers will have months to invest in these hugely popular products, if they wish.
"It's part of our long term economic plan to support savers and boost hardworking peoples' financial security at all stages of life."