A couple hit by this month's collapse of Lowcostholidays got £1,400 back in just five days after using MoneySavingExpert.com's reclaim guide. Other victims of the travel firm's sudden slide into administration should use this as inspiration to try to get their money back too – full info in Lowcostholidays reclaim help.
Victoria and her partner (who didn't want to be fully named) are now in the Greek islands on holiday after it had appeared their dream trip was in jeopardy.
While the southwest-based couple's flight bookings were still valid, their hotel and transfers were cancelled for their week-long all-inclusive trip due to the collapse.
To secure the bookings they had to rebook the cancelled elements for £1,700, which was £300 more than the original £1,400 paid for them.
But Victoria had made a successful 'chargeback' claim from her bank TSB – after paying for the holiday on her debit card – to get the £1,400 back.
The money arrived in their account on Friday 22 July, just five days after the claim, made by filling out one of our chargeback template letters. They flew out on Sunday.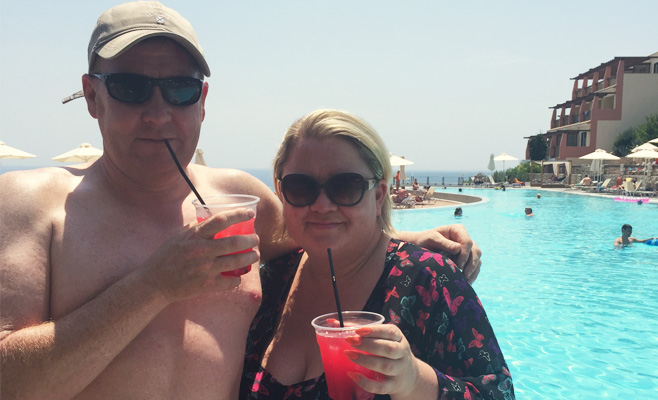 'I can't thank you enough'
We spoke to Victoria, who was beside the pool in Kefalonia, earlier this week.
"I want to say thank you so much for your excellent and detailed tips regarding Lowcostholidays customers, much appreciated.
"I've lost £300 but I'm just pleased I can still go on holiday."
Victoria's story is one of the first success stories we've had from Lowcostholidays customers affected by its collapse. If you've also successfully reclaimed, let us know at news@moneysavingexpert.com.
How to reclaim if you're affected
If you've lost out because of the Lowcostholidays collapse, there are a number of things you can try to get your money back. We've full step-by-step help in our Lowcostholidays money back guide, but in brief, these are the avenues you can try...
Chargeback. A customer service guarantee for purchases on Visa, Mastercard and Amex credit and debit cards – see our Chargeback guide for full info.
Section 75. A legal protection for purchases costing over £100 made on credit cards – see our Section 75 guide for full info.
PayPal. If you paid by PayPal, you're covered by its buyer protection scheme – but only if you raise a dispute within 180 days of paying.
Claim from the Spanish regulator (only for customers of the Lowcostholidays brand who booked flights + hotel). Do this by following the instructions on its website.
Register as a creditor of Lowcosttravelgroup or its subsidiaries. Do this by emailing administrator Smith & Williamson on lowcosttravelspain@smith.williamson.co.uk. (Sadly customers of the Lowcostholidays brand can't register.)