If you run a small business in the UK you could unwittingly end up paying up to £185/year by not opting out of the BT phone book's classified listings.
MoneySavingExpert.com has been contacted by one bewildered business owner who'd received a letter from BT stating that she would be charged for a business-directory listing unless she opted out of appearing in the phone book.
The communications giant gave her four weeks to choose not to feature in the listings in the latest edition of her local phone book or face a charge of £15.49 (plus VAT) a month per listing.
Small business owners are automatically opted in and their first year in the BT classified listings is free. They're only charged if they don't opt out before the next edition is published 12 months later.
If you run a small business you'll receive a first letter advising you of your entry details and that the listing is free of charge for that year, giving you the chance to amend the listing if required.
You can choose to opt out when you receive the first letter, but you also have another opportunity to do so when the second letter mentioning the £15.49 charge is sent, around a year later.
BT publishes 168 phone books for different parts of the country at various times throughout the year. So the date on which you're notified of the fee for not opting out will depend on when the next edition of your local phone book is due out.
Check out our Small Biz MoneySaving guide if you're a small business owner.
'The letters look like junk mail'
We were contacted by Caroline, the owner of a Wiltshire-based management services business for musical artists. She has questioned the way in which BT chose to warn her about the cost of not opting out of its classified listings.
She says: "BT are sending letters that look remarkably like junk mail which require [small business owners] to actively opt out of phone book classified listings. If you don't, then they say they are entitled to charge £15.49 (plus VAT)/month.
"The letter has no specific date and opens with 'Hello' and features a lot of rather benign pink (rather than red) lettering. I suspect there will be many people who didn't know they had 'opted in' in the first place."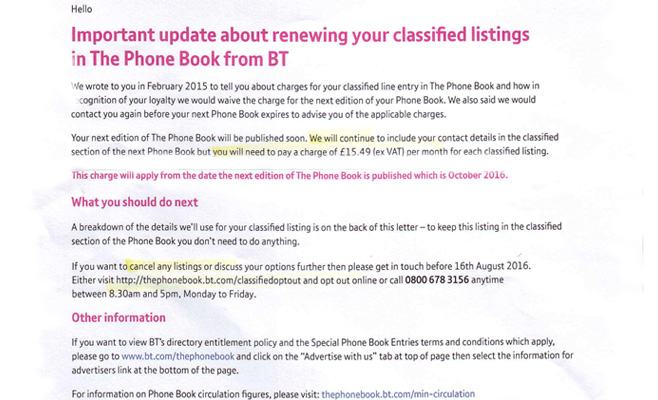 'Beware if you have a classified BT phone book listing'
Business owners have been forced to opt out of inclusion in BT's classified listings since March 2013 and recently a number of people have voiced their frustrations with the approach:
Do you know you have to pay to be in the BT commercial phone book? You'll be charged from July if you dont opt out!!! We've opted out today

— WealAles (@WealAles) June 6, 2016
If you have classified listing in #bt.com phone book beware . You have to opt out if not you will be charged £15.49 a month . Outrageous

— Julian Hartnoll (@julharcom) May 9, 2016
I don't want to pay to be in the classified listings. How do I opt out?
Business owners who wish to opt out should follow the process that is outlined in the letter they receive, which is to contact BT on 0800 678 3156 between 8.30am and 5pm Monday to Friday.
You can also opt out online by visiting the BT phone book site.
If I didn't realise I needed to opt out can I do so after the phone book's been published?
BT says its policy is applied "in a reasonable manner" and that it will accept opt-outs after the four-week period outlined in the letter.
If you decide you don't want the listing after the phone book has been published, BT says it'll issue refunds "when required" and your listing will be removed from future editions. Businesses will continue to receive a free listing in the A-Z section of the phone book.
How many small business owners could be affected?
According to figures produced last year by the Federation of Small Businesses (FSB) there are about 4.1 million one-man-band operations in the UK (ie, businesses that do not employ anyone aside from the owner) – that's 76% of the total number of private sector businesses, as calculated by the FSB in 2015.
BT declined to provide information on what proportion of small business owners opt out of being listed in the classified section of the phone book.
Why does BT operate an opt-out policy?
BT says it has taken an opt-out approach to avoid "the significant risk with an opt-in approach that the customer could miss a letter, leaving no option but to wait a full year to get their entry re-inserted into the next phone book possibly resulting in business losses".