The cost of the cheapest energy deals on the market has soared since the summer, with new customers who sign up to the cheapest tariff likely to pay an average £100/year more than they would have in May, MoneySavingExpert.com research reveals.
Our analysis of energy deals over the past six months shows the cheapest tariffs on the market are increasingly being withdrawn and replaced with pricier versions.
With some smaller suppliers already hitting customers on their standard variable tariffs with huge hikes and price rises predicted elsewhere too, now's the time to check if you can switch and save £100s.
To see how much you could save, do a full market comparison on our free Cheap Energy Club.
How prices have risen
In May the cheapest tariff on the market was just £724/yr, based on typical use, for a one-year fixed deal from big six provider EDF.
Today, the cheapest deal is from small supplier Economy Energy, costing a typical customer an average £822/yr – that's £98/yr more expensive. The cheapest deal from a big six provider is even more – £897/yr for a one-year fix from Npower.
This graph shows how prices have risen, with a steep jump in recent weeks. Until the end of October, small supplier Iresa was offering a market-leading one-year fix – much cheaper than other deals available at the time – for £744/yr for a typical customer.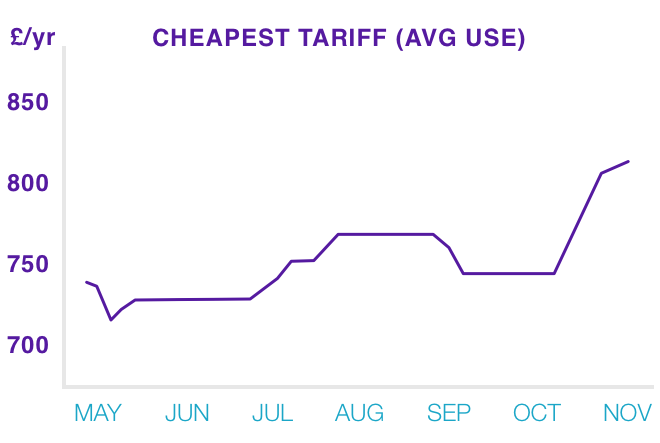 How much could you save?

Prices vary by region and usage, so to check how much you could save, use Cheap Energy Club. Switching can save many £100s a year.

Even despite the recent rises in the cost of the cheapest deals, if you're one of the 66% still on a big six standard tariff, you could still save up to £240/yr by moving onto a market-leading one-year fix.

Why are prices rising?

Price rises are being driven by an increase in the wholesale cost of energy – what energy providers pay for gas and electricity – alongside higher import costs due to a weakened pound. Some suppliers have blamed hikes on higher costs suppliers pay to 'grid operators' to use their networks, and on Government energy-related schemes.

Gas and electricity prices have risen sharply this year. From the beginning of April to the end of October, the daily average wholesale gas price shot up by about 64%, while electricity prices rose by about 40%.

Yet it's more complicated than that. With big providers there's typically a time-lag before changes in wholesale prices are reflected in what you pay, as firms buy gas and electricity months and even years in advance (with smaller companies, the delay's much shorter). That suggests we could be about to see even steeper price hikes in coming months.

Price hikes on standard variable tariffs

We've already seen some smaller suppliers announce hikes to their standard variable tariffs.

Back in August, Co-op raised the price of its standard tariff by 3%, followed by increases from Ecotricity and a massive 30% hike from GB Energy Supply.

This sparked fears that the big six would soon follow with a fresh round of hikes, the first since 2013, on their standard variable tariffs. However, last week SSE made the surprise announcement that it's freezing its standard gas and electricity prices until at least April 2017. Whether the other big six suppliers will follow suit remains to be seen.