Millions of people in their early-40s face having to wait an extra year to collect their state pension after the Government announced plans to bring forward a change to the retirement age.
The Department for Work and Pensions has announced it wants to increase the state pension age to 68 seven years earlier than expected.
The change will affect everyone born between 6 April 1970 and 5 April 1978. Under the proposed new timetable, state pension age will rise from 67 to 68 between 2037 and 2039, rather than between 2044 and 2046.
Any changes will have to go through Parliament before being confirmed, and there will be another review before then to ensure the Government has the latest life expectancy figures.
For full info on how the state pension works and how much you'll get, see our New State Pension guide.
Who will have to wait an extra year for their state pension?
Whether this will affect you depends on when you were born (it's the same for men and women):
Born before 6 April 1970? There's no change to your planned state pension age.
Born between 6 April 1970 and 5 April 1978? Your state pension age is currently 67 – if the proposals go ahead, it'll rise to between 67 years and 1 month, and 68 years, depending on your date of birth.
Born after 5 April 1978? There's no change – your state pension age remains 68.
What other changes are planned for the state pension age?
The change announced today relates only to those born between 6 April 1970 and 5 April 1978 – but there are already a series of planned increases to the state pension age.
Currently, the state pension age is 63 for women and 65 for men, but it's due to rise incrementally.
By 2020 it will be 66 for men and women, and it'll rise to 67 for both between 2026 and 2028.
Why is the Government doing this?
The Government estimates bringing forward the increase in the retirement age will save some £74 billion by 2045/46.
Secretary of State for Work and Pensions David Gauke said: "Since 1948 the state pension has been an important part of society, providing financial security to all in later life. As life expectancy continues to rise and the number of people in receipt of state pension increases, we need to ensure that we have a fair and sustainable system that is reflective of modern life and protected for future generations.
"Combined with our pension reforms that are helping more people than ever save into a private pension and reducing pensioner poverty to a near record low, these changes will give people the certainty they need to plan ahead for retirement."
The Government says those affected by the proposed changes will still on average receive a bigger state pension over their lifetime than generations before them.
It says that a 65-year-old claimant in 2017 is likely to claim a state pension for an average 22.8 years, whereas in 1948, when the state pension was first introduced, would have claimed for an average of only 13.5 years.
It released this infographic to highlight the changes: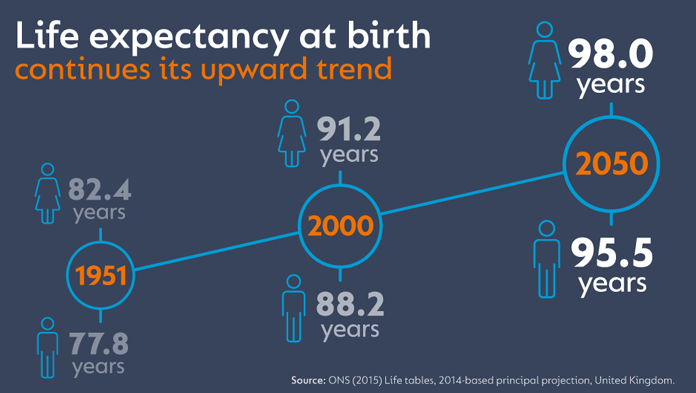 Have your say