A Vodafone customer who disputed a mobile bill has won a maximum £10,000 ombudsman payout and forced the telecoms giant to write off the rest of the debt.
Stephen Utting, a carpenter from Cardiff loyal to the provider for 25 years, unwittingly racked up a £10,500 mobile phone bill last year after exceeding the data allowance on his Wi-Fi dongle.
As reported by MoneySavingExpert.com, he then took his dispute to Ombudsman Services: Communications, which told Vodafone in April to cut his bill by 75% after ruling the firm had agreed to cap the data on his account and had failed to send usage notifications.
However, unhappy at the decision, Stephen decided to appeal against it in a bid to have the entire sum repaid.
Now, in a new verdict, the Ombudsman has agreed to a maximum £10,000 payout after finding that some of Vodafone's usage-monitoring tools were not working. Vodafone has agreed to write off the remaining debt.
Stephen said: "This should never have happened – I've been a loyal customer for over 25 years."
If you're worried about mobile data charges see our Cheap Mobile and Data Roaming guide for more help.
The Ombudsman's decision
Ombudsman Services: Communications completed its appeal investigation on 6 June and ordered Vodafone to take the following action:
Credit his account with £10,000.
Send written confirmation of the new account balance.
Cancel the dongle agreement without financial penalty.
Request negative marks applied to Stephen's credit file as a result of this to be removed.
Send a written apology to acknowledge shortfalls in customer service and inconvenience.
An Ombudsman Services spokesperson said: "The complainant said some of the tools offered by Vodafone to monitor his usage were not working and the mobile dongle used to run up the bill was used by several people so Mr Utting would not have known how much data had been used. For these reasons, we increased the award."
How did charges get so high?
In August 2016, Stephen (below right) asked Vodafone to cap his data usage. He and others continued using it, including streaming TV programmes. But instead of putting a cap on his usage as he thought, Vodafone doubled his allowance to 2GB.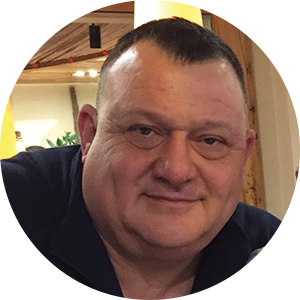 As a result, Stephen ran up over £10,000 of charges, including 200GB of data in November. He was charged £6.50 for every 250MB used beyond his allowance.
Vodafone sent 12 notifications to Stephen's dongle during October and November to alert him to the large amounts of data he was using but the notifications could only be viewed through a Vodafone data-monitoring app. Stephen said he did not know an app had to be downloaded for usage to be monitored.
A dongle is a small wireless device – or a USB device you can plug into a computer – which gives you a mobile data connection, so you can get the internet when you're out and about.
'There should be a cap implemented by law'
Unlike when travelling in Europe, where UK consumers are protected to some degree from roaming charges, including those for data, unless they opt out or have a different agreement with their supplier (see our Cheap Mobile and Data Roaming guide), there is no equivalent protection for mobile data usage in the UK.
Stephen said: "It should never get to a stage where the bill gets to a life-changing amount. There should be a cap implemented by law."
A spokesperson for regulator Ofcom said: "The Digital Economy Act includes a measure requiring providers to allow mobile phone customers to set a bill limit.
"We also expect all charges for dongle use to be made clear and transparent to help customers avoid running up unexpectedly high bills."
What does Vodafone say?
A Vodafone spokesperson said: "We always comply with the final recommendation of the Ombudsman and have done so in this case. The Ombudsman has accepted that a series of notifications were sent to Stephen to advise him of high data usage, however, this evidence did not arrive in time to affect their final decision."
Vodafone says it now offers a cap for new and upgrading dongle customers, but Stephen's price plan didn't have a cap as standard. Only customers who joined Vodafone or upgraded to a new package after 1 September 2016 would be eligible to request data capping.
How to protect yourself
If you're concerned about data charges, contact your supplier to ensure a cap is applied to your account or switch to a tariff with a high or unlimited data allowance if that suits your usage needs.
If you need access to the internet while out and about, there are steps you can take to protect your pocket:
Check whether you really need a dongle: You may be able to get all the data you need using Wi-Fi hotspots or tethering (ie, sharing your phone's data with your laptop or tablet).
Make sure your dongle's data plan matches your usage: Some providers, such as EE and Three, provide data usage calculators. Be warned though – they might push you to take a particular plan, but it's always worth checking for the best price.
Regularly check your data usage: Make sure you know what data alerts your provider offers – such as texts, emails or warning lights on the dongle itself – and how you can access them.
Haggle, haggle, haggle: Negotiate with dongle providers to bag the best deals.
For full help in choosing a Wi-Fi dongle, plus what to watch out for, see our Mobile Broadband guide.