An online train ticket retailer has launched a tool which shows when cheap advance tickets are likely to rise in price – and when they're expected to sell out altogether.
Trainline has added the Price Predictor tool to its free mobile app, available for all iOS and Android devices. It uses data from billions of customer journeys to predict when the cost of advance tickets – which allow passengers to travel on a specific service for less – will go up.
The tool, which gives a prediction based on the specific route, date and time you're travelling, is likely to be handy if you want to nab a cheap advance fare but are holding off booking as you haven't yet finalised your plans.
For full help on how to keep the cost of rail travel down, see our Cheap Train Tickets guide.
How to use the Price Predictor
To use the Price Predictor, you need to have the Trainline app downloaded on to your mobile phone. If you have previously downloaded the app you may need to update it.
Then, to find the tool, type in the two stations you wish to travel between and click 'Find trains.' A list of train times will then appear, and beneath each time, on the right, will be a button marked 'price tracker'. Click this to access the Price Predictor.
How the Price Predictor works
Most train companies release cheap advance tickets about 12 weeks before the date of travel, and they almost always go up in price over time. To get the best fare, it makes sense to book an advance ticket as soon as you can confirm the date and time you want to travel.
As advance tickets only allow travel on a specific service at a specific time though, don't book until you're sure of when you want to travel to avoid paying for a ticket you can't use.
The Price Predictor uses historic data from passengers' train journey searches on Trainline to predict how the cost of advance tickets is likely to change over time. And its predictions are likely to become more accurate in future as more data is gathered – though it's important to remember these are predictions, not certainties.
As an example, on Wednesday 6 September, we checked the price of a journey from Edinburgh Waverley to London Euston at 8.51am on Tuesday 31 October, and at that time, tickets cost £30. Using the price tracker, we could see that tickets at this price would likely sell out in 29 days. After this, the price was predicted to rise, hitting £85 by Sunday 29 October and £137 on Tuesday 31 October itself.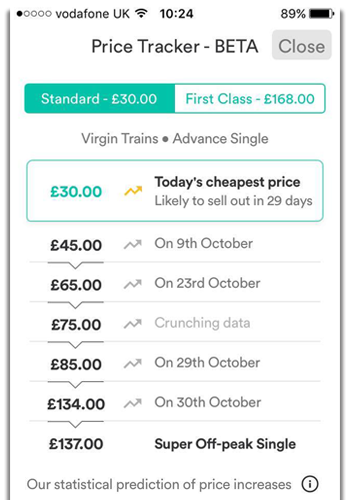 Trainline says its data shows passengers save an average of 43% on rail travel when buying an advance ticket compared with buying on the day – but this would rise to 49% if they bought at the price they got when they first searched for the journey.
DON'T use Trainline to book – it's cheaper elsewhere
While Trainline's Price Predictor tool is a handy way of deciding when's best to book, if you use Trainline to actually book your advance ticket you'll pay extra fees, including:
A booking fee – between 25p and £1.50 via an Android or iOS device, £1 on any other mobile device, and between 75p and £1.50 on the website
A delivery fee – £1.95 via second-class post
A credit card fee – 2% on main site or app, £1.50 on mobile site
Other sites charge less – for example, Virgin East Coast (which sells all train companies' tickets) doesn't charge a booking or credit card fee. You can print your tickets at home for no cost, or if the station you're travelling from doesn't have a ticket collection machine, delivery by post is free. See our rundown of the top UK train booking sites for more options.