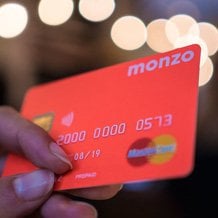 App-based bank Monzo has apologised after thousands of people on its waiting list had their order delayed due to problems making its coral-coloured prepaid card.
The bank said as many as 5,000 applicants were affected by the glitches at the end of last month, and it is now working to clear a backlog.
It's stopped its 'Golden Ticket' system, which lets a Monzo customer refer and boost one person to the front of queue, and also used to feature in the MSE Prepaid Travel Cards guide as a 'queue jump' deal.
What went wrong?
Monzo says it ran out of prepaid cards on 22 September due to "unexpected delays" following an upgrade to a machine at its card manufacturer.
It warned customers then that there would be a delay, and then began sending out new cards on 29 September. However some of these were faulty and wouldn't work for customers, so Monzo decided not to send any more out.
It's now started sending out cards again today - but says there is a backlog to clear.
In a detailed blog post the bank said: "We are making sure everyone impacted by the delays is kept up-to-date directly with the progress of their card.
"However, this is an issue we should have foreseen sooner and we could have been more proactive with our communication to the people who've been impacted. We'd like to apologise to everyone affected by the delays – it is something we will certainly learn from."
Monzo is in the process of launching a current account and has started inviting existing prepaid card customers to open one. In due course next year the current account will be open to all, and the bank will eventually stop supporting prepaid cards.
The blogpost added: "As we move from the prepaid card to the current account, we will be working with multiple card manufacturers. This will help us make sure that if there are ever any issues with one manufacturer in the future, we will be able to move the process to another at short notice. In the long term, we are investigating how to bring part of this process in-house, to make sure we can be flexible and give our customers the best service possible."