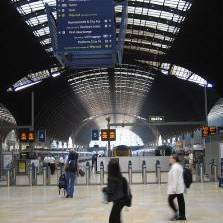 A commuter scheme set up to help spread the cost of expensive season tickets has wrongly taken £100s from passengers who weren't customers at the time, due to a "technical error".
CommuterClub has apologised after taking the payments from travellers who had unsuccessfully applied for the scheme – in some cases several months ago.
The scheme helps commuters to buy an annual season ticket upfront and pay it back in monthly instalments, meaning they can often save more than £100 when compared with buying monthly tickets. For more on how to spread the cost of commuting, see our Cheaper Train Season Tickets guide.
What went wrong?
CommuterClub says the problem was caused by a technical error during a server upgrade on Friday night, which resulted in payments being taken from applicants previously declined from the scheme.
In some cases former customers who had left the scheme, then reapplied and been declined, could also have been affected. It's understood at least 100 people are thought to have been wrongly charged for the first instalment of their season ticket, which in some cases could run into £100s.
CommuterClub says it contacted all those who were affected on Saturday morning and began issuing refunds that day – though it's warned these could take up to 10 days to come through in some cases due to different banks' systems.
We were first alerted to the issue by forumite VKR92, who reported the problem in the MSE Forum, saying: "I'm getting my money back, and will be getting them to remove my data from their system – so all is well on that front. I just can't get over the fact that something like this was allowed, or able, to happen. I'm not even a customer."
CommuterClub kept some rejected applicants' details for 10 months
It has admitted it did not need to keep applicants' financial details as long as it did – up to 10 months after rejection in some cases. It has now promised to delete all financial details of unsuccessful applicants within 30 days of telling them they have been declined.
We've contacted the Information Commissioner's Office to ask if it's aware of the issue and taking any action, and will update this story when we hear back.
How can I check if I'm affected?
CommuterClub says anyone wrongly charged should have been contacted by email on Saturday morning. However, if you applied to join CommuterClub, were rejected and are concerned, check your bank or card statements to be sure.
What if I'm out of pocket?
CommuterClub has promised no one will be left out of pocket as a result of the blunder, and insists it will cover any charges you may incur as a result of being wrongly charged, such as overdraft fees.
It also said it will take action, such as sending explanations to credit agencies, if any passenger's credit scores have been affected as a result of missed payments, and will also consider goodwill gestures if people have been badly affected by the error.
A spokesperson believes many of those affected should already have their money back, but if you need more help call 0203 476 5002 or email customerservice@commuterclub.co.uk. If you've been left out of pocket and believe you haven't been fairly treated by CommuterClub, you can let us know at news@moneysavingexpert.com.
'This is not the service level we work hard to deliver'
An email sent by CommuterClub to customers said: "Please accept our apologies for this unfortunate situation. We value our customers above all and this is not the service level we work hard to deliver.
"Please rest assured that we have taken all remedial measures to address the situation and the root cause to prevent any further occurrence."