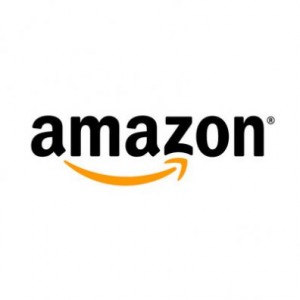 If you're buying on Amazon, watch out for unexpected delivery charges. A change to its Prime Now service means you now have to spend more to get free delivery, while some using its 1-Click option could pay up to £4.75 more than they need to because a default setting means they're automatically charged.
Here's what to watch out for, including full details of the Prime Now change and a trick to help you hit the new free delivery threshold, plus how 1-Click customers could be caught out.
For full help on shopping with Amazon, see our 22 Amazon Buying Tips.
What are the Amazon delivery options?
Amazon offers a wide range of delivery options, depending on whether or not you're a member of its premium Prime service (which usually costs £79 a year or £7.99 a month – though you can get a free trial for 30 days).
If not on Prime, you can usually get free delivery on items sent by Amazon which are worth more than its free delivery threshold (usually £20 – with books it's £10 or more). It takes three to five days. Otherwise standard delivery costs up to £4.75 and takes one to two days, or you can pay more for faster delivery.
If you're a Prime customer:
Free next-day delivery is included on eligible items – or you can opt for slower 'No-Rush' delivery in return for a reward, such as an Amazon Kindle credit.
Amazon Same-Day delivery is available on eligible items between 6pm and 10pm to certain postcodes if ordered before the deadline (usually midday). This is free for Prime members and otherwise costs £7.99 per delivery.
Amazon Prime Now delivery is only for Prime members, on a limited range of 20,000+ products, and is currently only available in nine cities and their surrounding areas. Delivery within one hour costs £7.99. A scheduled delivery within a two-hour window on the same day costs £3.99, or is free for orders over a certain amount – this figure is what has changed.
Using Amazon Prime Now? You now need to spend £40 for free delivery – but there's a trick to help
The online retail heavyweight has doubled what you need to spend to qualify for free Prime Now delivery within a two-hour window later that day, from £20 to £40.
It's worth stressing Prime Now is only available to some Prime customers including those in London, Birmingham, Glasgow, Leeds, Liverpool, Manchester, Newcastle, Portsmouth and Sheffield. In some cases customers living close to these cities can get it so check your postcode.
Prime Now only covers 20,000+ of the millions of items Amazon stocks, and in some areas you'll also be able to use it for shops such as Morrisons. The two-hour delivery offer is available from these other shops, but your order for each individual shop must be over £40 to qualify for free delivery.
Find low-value items to hit the free delivery threshold
If you're close to the £40 total needed for free Prime Now delivery, it may be worth buying something small you need that costs less than the £3.99 delivery charge you would pay, to take you over the threshold.
For example, if you order a £39.99 Amazon Fire Stick you could add a low-value item such as Jakemans Throat and Chest sweets for 60p to take you over the £40 threshold. You'll end up paying £40.59 in total, rather than £43.98 – plus you get the sweets.
To find low-value items, select a category you need something from, and filter prices from low to high to ensure you find the cheapest add-on products.
Buying via 1-Click? You may be charged for delivery by default – even if you can get it for free
You should also watch out for unexpected delivery charges if you use Amazon's 1-Click service – and you're not a Prime customer. (We reported on this little-known issue last week.)
Amazon customers usually qualify for free delivery on orders over £20 (or £10 for books) which are dispatched by Amazon. But 1-Click, which allows you to place an order with one click rather than go through the usual shopping basket process, defaults to the standard delivery option for Amazon customers who aren't Prime members.
In some cases that could mean you're charged up to £4.75 for delivery within one to two days, even if your items qualify for free delivery, which typically takes three to five days. So if you expected to qualify for free delivery with items worth £20, and didn't want to pay more to get them faster, you could be caught out.
If you're in that situation, bizarrely the only way of getting free delivery is to go back and amend your order immediately after making it – see below for how to do this. There's no way of making free delivery your default choice.
But it's worth noting that if you order an item which isn't sent by Amazon and the seller offers free delivery as standard, you may still find you can get free delivery via 1-Click.
How to amend your order to get free delivery using 1-Click
Once you've placed your 1-Click order you'll see a new page with a banner at the top thanking you for your order. As shown below, on the right-hand side there'll be a button to 'Review or edit your order' with a sentence saying, 'Your order may qualify for FREE Super Saver Shipping. Click 'Review or edit your order' to change your shipping order.'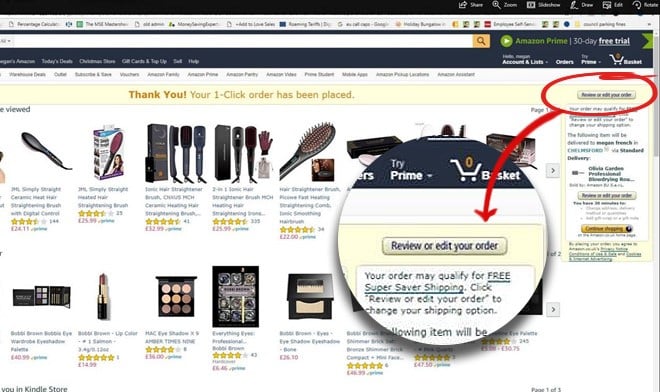 Next, you need to:
Click 'Review or edit your order'.
Look for 'Delivery speed'. If it says 'Standard' and you're willing to wait a bit longer for free delivery, click 'Change'.
Choose your delivery option – if your order qualifies for free delivery, you should be able to select it here.
To do this you'll need to amend your order as soon as possible after making it. It's not clear from Amazon's website how long you have to do this – one part of its site says you have until the item has "entered the dispatch process", another says you should do it "within at least 15 minutes". But do it immediately to be safe.
Alternatively, it may be easier to turn off 1-Click and select the right delivery option when going through the checkout process.
What can I do if I've been caught out?
If you realise you've paid more than you meant to for delivery and it's too late to change your delivery option, it may be worth contacting Amazon to complain.
We were first alerted to this issue by MoneySaver Wendy, and in her case she successfully complained via online chat and had £10.74 postage refunded.