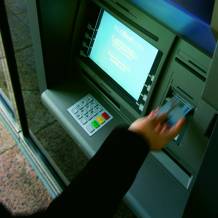 The firm behind the UK's main cash machine network has announced a series of reforms which could lead to some ATMs closing – but should protect the most rural and remote machines.
Link, which runs a network of about 70,000 ATMs, has announced that from 1 July 2018 there will be a 5% (roughly 1p) reduction in the interchange rate, the fee card issuers pay ATM operators when a machine is used. This will be followed by three further annual reductions of 5% – each subject to review.
These changes could lead to reductions in the number of ATMs, as the machines will become less financially viable for operators to run.
But to stop rural and remote ATMs disappearing, all cash machines that are one kilometre or more from the next free ATM will be exempt from any reductions in the interchange rate.
An extra subsidy of up to 30p (tripling the current 10p) will also be paid by card issuers for a very small number of ATMs in areas that could not otherwise sustain them, to ensure that the most remote cash machines do not close.
The plans were first proposed by Link in November last year but have been confirmed this morning.
See Best Bank Accounts to get the most for your money.
Why is Link making these changes?
Link says its decision is in response to new data which showed that current fees were driving ATM companies to focus on city centres, rather than more rural areas.
It says 80% of free-to-use ATMs are now within 300 metres of another free-to-use machine.
The firm has published an impact report assessing what the proposed changes will mean, which found that maintaining the current arrangements would lead to a reduction in free ATMs as consumer demand for cash withdrawals falls, with a concentration of free ATMs in busier centres.
Cash payments have dropped by 33% in the past decade, and a further fall of 43% is predicted in the next 10 years.
Its impact report also concedes that two large independent ATM companies suggested the proposals would lead to a major reduction in the number of free-to-use cash machines.
What does Link say?
Chief executive John Howells said: "Link is committed to protecting free access to cash.
"The UK has a near record number of ATMs, yet the recent growth has led to the majority of these being placed in busy areas where there simply is no need for a new ATM.
"The combination of a reduction of the interchange, with the significant strengthening of the financial inclusion programme, will begin to rebalance the network, making sure we protect and install new ATMs in locations that really need them."