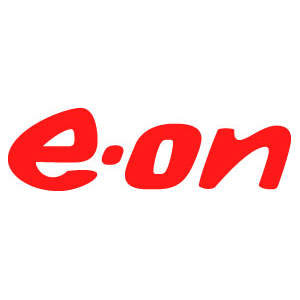 Big six energy firm E.on is sending letters saying it "needs" to install smart meters in "all" its customers' homes, MoneySavingExpert.com can reveal. But if you've got one of these letters and don't want a smart meter, you DON'T have to have one.
One E.on customer, who asked not to be named, contacted us last week to show us a letter sent by E.on which he said made him feel as though he had "no choice but to have a smart meter".
But while smart meters are free and offer a number of benefits, not everyone wants to get one and many are holding off because the first-generation 'SMETS 1' smart meters often lose smart functionality if you switch supplier.
Energy firms are under pressure to roll out smart meters, and everyone in England, Scotland and Wales should be offered one by 2020. But energy watchdog Ofgem says smart meters AREN'T compulsory and has warned that firms must make sure all communications about them are "transparent and accurate".
For full info on how smart meters work and the pros and cons, see our Smart Meters guide. Plus check if you can save £270/yr on your energy bills with our latest collective switch via Cheap Energy Club.
'We need to install smart meters into all of our customers' homes'
E.on's letter, seen by MoneySavingExpert, says: "Your electricity meter is an old model that we need to replace with our free self-reading smart meter."
It continues: "We need to install smart meters into all of our customers' homes as part of a nationwide upgrade programme."
At no point in the letter is it mentioned that smart meters are not compulsory – see the full copy below.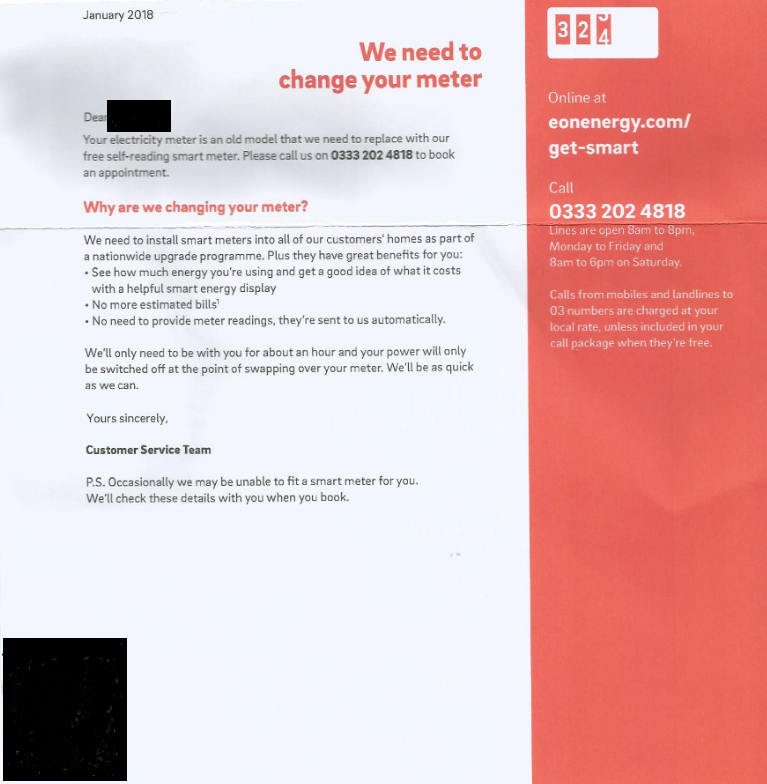 The E.on customer, who said he had concerns about getting a smart meter at this stage, told us: "This makes it seem that I have no choice but to have a smart meter, which I understand is not the case."
Your smart meter rights - you CAN opt out
E.on has confirmed that none of its customers is required to get a smart meter. A spokesperson said: "To support our commitment to Ofgem to install smart meters for our customer base by 2020, we are currently reaching out to customers who have classic meters to replace them with a new self-reading smart meter.
"While smart meters are not compulsory, we firmly believe smart meters offer a number of significant benefits for customers, including bringing an end to estimated bills and the ability to gain a greater understanding of their energy use which can help them lower their energy consumption.
"If a customer receives this letter in the post and does not want a smart meter, the customers can choose to opt out from receiving future communications by speaking to one of our advisors [sic]."
Since we published this article, an E.on company representative has posted on our related MSE forum thread saying: "[I] take on board the comments about the content of the recent letters and have sent this thread through to those at E.on responsible for sending the letters including senior management."
What does Ofgem say?
An Ofgem spokesperson said energy users have a "right to decline" smart meters and that "suppliers must not mislead consumers".
He added: "Ofgem is working with suppliers offering smart meter installations to make sure their communications help their customers reap the benefits of smart metering and are transparent and accurate."
Should I get a smart meter now?
As well as being free, smart meters do offer a lot of benefits over traditional meters, including automatic readings and an end to estimated bills.
There's one big snag currently though – most smart meters being installed at the moment are still first-generation SMETS1 meters, which will lose most of their functionality and essentially become a standard meter if you go on to switch supplier.
Although this doesn't stop you from switching, if you know you're going to switch provider soon, you may want to wait until AFTER you switch to get one.
New second-generation smart meters, known as SMETS2 meters, WILL be able to keep their functionality after you switch. So if you're offered a smart meter, check to see which type you're being offered first. E.on has told us it's currently testing SMETS2 and intends to roll these out further in the coming months.
If you do get a first-generation SMETS1 meter, and it goes 'dumb' after you switch, this should be temporary. Eventually all existing meters will be upgraded remotely so they can connect to the central communication network, enabling full compatibility between suppliers. We don't know when this will happen yet, though it should be by 2020.
If this doesn't happen or the upgrade doesn't work for you, then the worst case is that you may need to arrange another appointment at home to have a SMETS2 installed to replace your SMETS1 - potentially annoying and inconvenient, but not the end of the world. See our Smart Meters guide for more info.