Tesco has apologised to customers after taking up to three months to process thousands of payments made in 300 of its Express stores - leaving shoppers facing a bills shock and in some cases going overdrawn.
The supermarket giant has admitted its card payments system did not fully process some transactions made on credit and debit cards since the end of November, resulting in a delay in money coming out of customers' accounts and some complaining they've been charged for multiple shops all at once.
Tesco says it's proactively contacted "as many affected customers as possible" about the issue, but if you've shopped at Tesco Express in the last three months, check your statements NOW. If you've gone overdrawn or been hit with other bank charges as a result of the problem, Tesco says it'll reimburse you.
Have you been charged late by Tesco? Let us know at news@moneysavingexpert.comFor ways to slash your grocery bill see our 34 Supermarket Shopping Tips - also see our Reclaim & Boost Tesco Vouchers guide.
'I was horrified - I run a tight budget'
In the past couple of days, we've been contacted by a number of furious Tesco customers who've been belatedly charged for payments they made in stores in November, December and January.
MoneySaver Julie told us: "I was both shocked and horrified to find out Tesco had taken three months to put through contactless transactions.
"These said transactions range from November 2017 through to January 2018. Nothing was indicated on my online statements as to pending payments and they've now presented me with these bills after nearly three months. I run a tight budget and they have now told me that there are nine transactions that were not processed correctly and that they would take them all out now."
Adam, who received a letter about the issue from Tesco, told us: "Taking nearly two months to send a letter out is a bit too long. I called them to say that I can't pay it all at once as this will take me overdrawn, only to be told that the money will come out of my bank in the next few days."
Since we've published this story a number of users have let us know they've also been affected, including Emma who said: "£129 taken out of [my account] - now got no money."
Below is the letter one customer received from Tesco: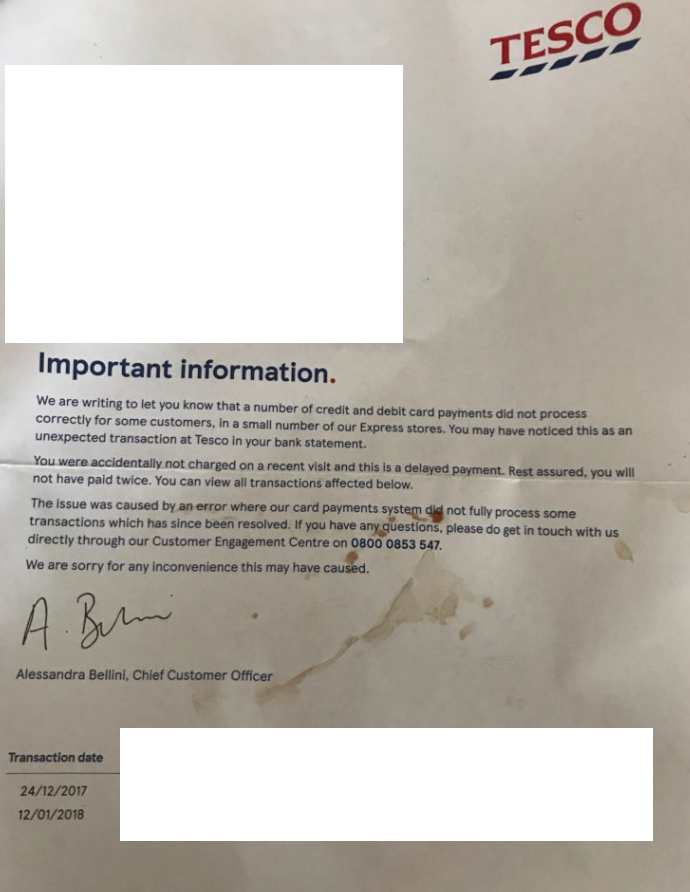 Tesco customers have also complained about the situation on Twitter:
I'm trying to gather as many people as possible who have been affected by @Tesco taking late payments this week for transactions that happened in December/January. Please do you your thing Twitter and RT this far and wide

— Sharon (@DoctorWarmflash) February 13, 2018
Let us know if you've been affected at. news@moneysavingexpert.com
Shopped at Tesco Express since November? Check your statements now
Frustratingly Tesco won't give precise info on exactly how many customers or which Tesco Express stores are affected.
So EVERYONE who's shopped at Tesco Express in the last three months should check their bank and card statements to make sure payments went through when they were supposed to. If you find something that doesn't add up or is unexpected, contact its customer engagement centre on 0800 0853 547.
Tesco has told us the problem relates to around 300 of its Tesco Express stores. It won't say which, or how many customers it estimates are affected, or even how many it's proactively contacted - it'll only say the problem's hit a "small proportion" of its total customers.
It also hasn't told us whether all payments were affected at certain stores for a certain period, or if only some were. MSE Rosie, who was one of those to receive a warning letter from Tesco, had just one payment affected, even though she regularly shops at the Tesco Express in Shoreditch, central London, using the same card to pay.
Given we know 300 stores were affected at some point it seems highly likely thousands of customers will have experienced delayed transactions.
Stores MoneySavers have told us ARE affected include:
Hammond Street in Waltham Cross, Hertfordshire
Holloway Road in London
Shoreditch in London
Trafalgar Road in London
Bedford Road in Kempston, Bedfordshire
Oakleigh Road North in London
High Street in Hoddesdon, Hertfordshire
Orchards Shopping Centre in Haywards Heath, West Sussex
High Street in Edenbridge, Kent.
What to do if you've been charged late
Tesco doesn't appear to have broken any rules by taking payments late - card schemes such as Mastercard recommend that payments on card are taken within seven days, but it can often take longer, and retailers are entitled to take money if goods have been supplied. In theory there isn't a set deadline for this.
But Tesco says it WILL reimburse any customers who have gone into their overdraft or been hit with other charges from their bank as a result of this problem, "subject to evidence". It says anyone affected should contact its customer engagement centre on 0800 0853 547.
If the late transactions have caused you financial problems - for instance if you've gone into an unarranged overdraft - it's possible a mark could be put on your credit file, which could affect your ability to get credit in future.
To check if this is the case, check your file with the three UK credit reference agencies - Experian (you can check it via the free MSE Credit Club), Equifax and Callcredit. Marks can take two to eight weeks to appear on your file though, so you may need to keep checking over the coming weeks.
If you do end up with a mark you may be able to get it removed - see our Boost Your Credit Score guide for full help.
'This is a real blunder'
Steve Nowottny, news and features editor at MoneySavingExpert.com, said: "It's good to see Tesco has apologised to shoppers, but this is a real blunder - for a major supermarket to take payments up to three months late simply isn't acceptable.
"If you're operating on a tight budget it's crucial you know that payments will be processed more or less as you make them. If you're suddenly hit with the bill for multiple shops in one fell swoop it can be a disaster financially, and there's a real risk some shoppers will have racked up bank charges as a result.
"Tesco needs to be clear now about the full scale of the problem, and must ensure it acts immediately to help anyone who's lost out as a result."
What does Tesco say?
A Tesco spokesperson said: "As soon as we identified this issue, we contacted as many affected customers as possible and have now processed all incomplete transactions.
"The issue has now been resolved and we are sorry for any inconvenience this may have caused."
Tesco says most delayed payments were for less than £10, and that payments on both contactless and non-contactless credit and debit cards were affected.