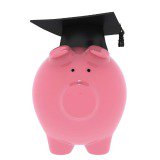 Welsh students starting university this September will be given at least £1,000 a year and some will receive more than £10,000, as part of a huge shake-up of maintenance grants.
The Welsh Government today confirmed it will launch a raft of more generous maintenance grants for undergraduate students, who will begin studying this September at a university anywhere in the UK.
The average household income for a student in Wales is about £25,000, and under the new system they will receive around £7,000 a year as a grant to help with living costs, which they won't need to pay back.
I'm starting university this September – which grant can I apply for?
Here's how the grants will differ depending on your household income and where you study:
Maintenance grants for full-time students
| Household income (up to) | At home | Away from home (outside of London) | Away from home (in London) |
| --- | --- | --- | --- |
| £18,370 | £6,885 | £8,100 | £10,124 |
| £20,000 | £6,651 | £7,817 | £9,760 |
| £25,000 | £5,930 | £6,947 | £8,643 |
| £30,000 | £5,209 | £6,078 | £7,526 |
| £35,000 | £4,488 | £5,208 | £6,408 |
| £40,000 | £3,767 | £4,339 | £5,291 |
| £45,000 | £3,047 | £3,469 | £4,174 |
| £50,000 | £2,326 | £2,600 | £3,056 |
| £55,000 | £1,605 | £1,730 | £1,939 |
| Over £59,200 | £1,000 | £1,000 | £1,000 |
You will also be eligible to apply for a living cost loan in addition to the grant, to take your maximum total annual support to:
Living at home – £7,650
Living away from home outside of London – £9,000
Living away from home in London – £11,250
Part-time students will receive the maintenance grant on a pro-rata basis.
You will be able to apply for student support in the coming months for the 2018/19 undergraduate year.
I'm already studying – what does this mean for me?
The new grants will only be available to first-time undergraduates starting their course this September.
If you've already started your course, your student support will be the same as it is currently. For more information see Student Finance Wales.
It is worth noting, however, all Welsh students may be able to get up to £1,500 wiped off their student loan when they begin to repay it. See the Student Loans Company website for more information.
What about tuition fees?
Full and part-time students can apply for a separate loan, which is not means-tested, to cover tuition fees. In Wales, tuition fees are capped at £9,000 a year but elsewhere in the UK you could be charged up to £9,250 a year for a full-time undergraduate course.
You will have to start repaying this loan once you begin earning over £25,000.
'The support is now equivalent to the national living wage'
Welsh Education Secretary Kirsty Williams said: "Money is clearly a very important factor when deciding when to go to university, and for those who are already studying, money is found to be a major cause for stress.
"With this in mind, we have designed a new package of support to alleviate these concerns that both parents and students share. This will allow students to focus on their studies without having to worry about how they are going to afford their day-to-day living costs.
"The support that Welsh students, studying anywhere in the UK, can apply for is now equivalent to the national living wage [The Government calls the minimum wage for over 23's the 'national living wage'. We don't use that term, as it is not based on assessment of the cost of living. See our National minimum wage guide for more]. In addition, most students will have no upfront costs to pay as a tuition fee loan can be taken out to cover their course.
"Living costs must not be a barrier to going to university. I want everyone who has the talent, potential and ambition to have that opportunity. Whether it's studying full-time or combining it with your career and studying part-time, university should be an option for everyone, no matter what your background or income."