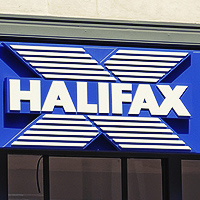 One of the UK's biggest mortgage brands mistakenly flagged some borrowers' payments as late over a five-year period, potentially harming their credit scores without them knowing, MoneySavingExpert.com can reveal.
Halifax has admitted that between 2012 and 2017 customers who manually made mortgage payments on the last working day of the month wrongly had these payments marked as late.
This happened because the high street bank didn't process the payments until the next working day, which was then in the next calendar month. Credit reference agencies were automatically informed of this, meaning affected customers' credit reports will have showed some arrears.
Halifax won't say how many customers are affected – only that it's a "small number" – but the bank is widely regarded as one of the UK's biggest mortgage brands and is part of Lloyds Banking Group, the largest lender in the UK. It's now written to all customers whose credit scores were hit and has contacted credit agencies to get them to correct their reports.
If your file was marked with late payments, that could have affected your ability to get certain credit cards, loans and other products, and you could push for compensation – one MoneySaver says he got £500 after complaining.
Checking your credit report is in good shape is important if you want to get a mortgage, credit card, loan and more. See our Credit Scores guide and MSE's Credit Club for full help.
Who is affected by the error?
This issue affects Halifax mortgage customers who made a manual repayment – ie, not a direct debit or standing order payment – between March 2012 and May 2017, on the last working day of the month.
Halifax won't say how many of its mortgage customers are affected by the error, insisting only that it's a "small number" and that the majority of its customers make mortgage payments via direct debit. If you were affected, you should have received a letter like the one below: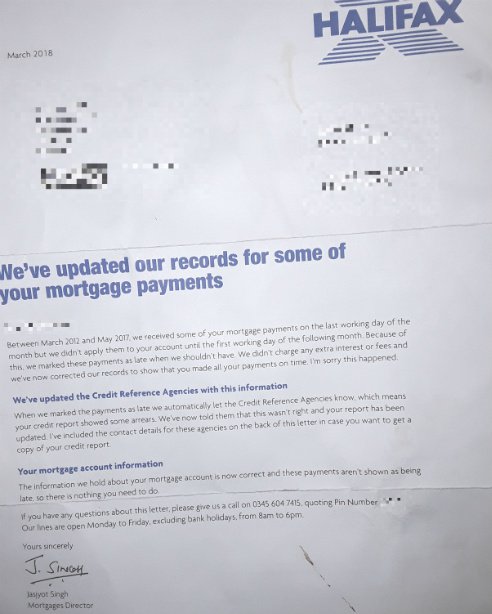 The three UK credit reference agencies – Experian, Equifax and Callcredit – compile information on consumers' borrowing history, allowing them to send data on any UK individual to prospective lenders.
This data is then used by lenders to decide which products you can get and the rate you'll be offered. How badly your score will have been affected depends on how many payments Halifax marked as late.
For a full breakdown of how credit scoring affects different financial areas, see our Credit Scores guide.
My payments were wrongly marked as late – what should I do?
In the letters it's sent out to affected customers, Halifax says "there is nothing you need to do" – but there's actually plenty you can do:
First, check your credit file's been corrected. Halifax says all credit reference agencies have now been informed that the payments were marked as late by mistake, and it has asked them to remove negative marks from customers' files, so in theory your credit score shouldn't be affected going forward.

However, you may want to check your file's been corrected, just to be sure. You can use MSE's Credit Club to get a free copy of your Experian report – for help with the other two agencies see our How to check your full credit report for FREE guide.

If you notice any of the late payments are still appearing, contact Halifax on 0345 604 7415 and let it know.
If you think you should be owed compensation, complain. While Halifax says it's amended credit files, if there were marks put on your file showing arrears, it's possible your ability to get credit will have been affected.

This may have resulted in you struggling to get – or getting a worse rate on – loans, credit cards, other mortgages and more. If you believe you've lost out, you should push Halifax for compensation – and one MoneySaver's already proved this can be done.

Halifax mortgage customer John Lawrence, from Middlesbrough, North Yorkshire, says he received £500 after complaining. His wife Josephine told us: "It says on the letter to not do anything, but John rung them and was first offered £100, and later got offered £500... He wasn't offered anything initially."

If you're going to ask for compensation, it's best to see first if you have any evidence of how Halifax's error has affected you. Unfortunately it's hard to prove the specific impact of a particular mark on your file, but if for instance you've been unexpectedly denied a loan or credit card, that may be worth flagging.

Then ring Halifax on 0345 604 7415 to complain. If you'd prefer to put your complaint in writing, you can contact Halifax, PO Box 548, Leeds, LS1 1WU. And if you're not satisfied with the outcome, you'll be able to escalate your case to the Financial Ombudsman Service – see our Financial Rights guide for more help.
'It beggars belief this went under the radar for five years'
Steve Nowottny, news and features editor at MoneySavingExpert, said: "For those who are affected this is a potentially very serious issue – customers' ability to apply for all sorts of products could have been affected if they had marks left on their file. While it's good that Halifax has now identified this issue and corrected it, it beggars belief that this error went under the radar for five years.
"It's also very disappointing that Halifax isn't offering customers compensation upfront, and is instead telling them to do nothing. If you're a customer who's affected and believe you've lost out as a result of Halifax's mistake, you should absolutely challenge it on this and try to get some form of redress."
What does Halifax say?
A Halifax spokesperson told us: "We have identified a small number of customers whose mortgage payments were received on the last working day of the month and not applied until the first working day of the following month.
"We have written to all customers affected to make them aware that these were incorrectly marked as late payments and that we have contacted credit reference agencies to ensure their records are updated accordingly."