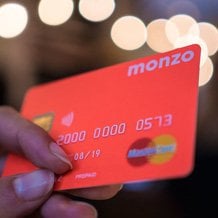 Digital bank Monzo has discontinued its prepaid card from today - if you have still have one, you'll no longer be able to use it.
We warned back in January that prepaid card holders wouldn't be able to use their cards from "early April" and would instead have to sign up for a current account - Monzo later confirmed that the cards would be discontinued from today (4 April).
If you're one of the 98,000 people that still has a prepaid card and you want to continue using Monzo, you'll need to upgrade your card to a current account.
See our Digital Banking guide for the top new current account and savings apps.
I want to upgrade to a current account - how do I do it?
You'll be given the option to upgrade your card next time you use the app.
There's no queue to upgrade (whereas new customers may have to wait a few days to open an account) and if you do it won't affect your credit score - as Monzo will only run a soft credit check on you.
Your balance and account history will be transferred over to your new account, and you'll be able to use Monzo again once your new debit card arrives and you activate it.
I don't want to upgrade - what happens to the money on my card?
If you don't want to upgrade and still have money on your card, you'll be refunded.
Monzo will start issuing these refunds on 12 April and the money should be returned five to 10 days after that to the card you used to top up, or via bank transfer to one of your accounts.
If this doesn't work, Monzo says it will get in contact with you to refund you via an alternative method, but you may also wish to contact it proactively via the app.
Is the Monzo current account any good?
The Monzo current account works much in the same way as the old prepaid card, with some added advantages such as supporting direct debits and bank transfers, and having full FSCS protection.
It also gives real-time notifications when you use your debit card, plus insights into your spending - a rarity among traditional bank accounts.
Monzo previously featured in our overseas spending guide as it used to offer almost unlimited fee-free overseas spending and cash withdrawals.
In September last year, however, Monzo announced it was curbing free overseas withdrawals. These are now restricted to £200 a month, before a 3% charge is applied - so it can be beaten. If you want a card to use abroad, see our guide on Travel Credit Cards.
In terms of overdrafts, there's a charge of 50p for every day your account is overdrawn by more than £20.
Most can't get an arranged overdraft, but Monzo says it is rolling these out to customers soon.