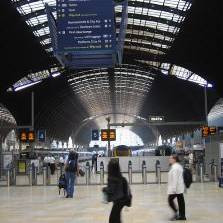 Rail passengers have been hit by widespread delays and cancellations across dozens of routes after three train firms implemented a major timetable shake-up. If you've been delayed, here are your rights and how to claim compensation.
Govia Thameslink, which runs the Thameslink, Southern, Great Northern and Gatwick Express services, has completely overhauled its timetable, while Transpennine Express and Northern have also changed some times in a bid to improve efficiency.
The changes were brought in on Sunday (20 May) but some passengers have claimed the move has been a "total shambles", with many trains delayed or cancelled. Thameslink has been forced to stagger the introduction of its new timetable on a number of major commuter routes into London, while Northern Rail has blamed a shortage of train drivers for problems on routes to Manchester, Liverpool and Newcastle.
See our Train Delays guide for full help on how to claim for disruption.
I've been delayed - how do I claim?
If your train's been delayed or cancelled, always check to see if you can claim a refund.
If you're on Thameslink, Southern, Great Northern and Gatwick Express you can claim if you arrive at your destination at least 15 minutes after you were supposed to - regardless of the reason - while with Northern and Transpennine Express it's 30 minutes.
Crucially, when checking how long you've been delayed you'll need to check the NEW timetable - you cannot claim simply because the new service ran on time but you arrived later than you would have done under the previous timetable. Here are the new timetables for each of the firms:
On a number of Govia Thameslink routes going through the capital, including Peterborough to Horsham, Luton to Rainham, Luton to Orpington and Bedford to Brighton, the new timetable hasn't yet been implemented on weekdays, and it's only being implemented gradually over the coming weeks.
If you're delayed on these routes you'll need to check when you should have arrived against its interim timetables in order to see if you can claim.
For full step-by-step info on how to claim, see our Train Delays guide, but in brief:
The amount you get varies by company - but whichever route you're on, you can now opt for cash rather than rail vouchers. See individual firms' policies.
Keep hold of your tickets – you'll need to post them to the train company or scan them if applying online (it's much easier to claim with the original ticket).
Make a note of the length of the delay and the reason for it. Request a claim form from the station, your train company's website or by phone or claim online if possible.
Apply within the time limit, typically 28 days (but check).
If you're rejected for compensation or a refund but still think you have a case, complain. If necessary, take your complaint to Transport Focus.
What do the train firms say?
A Govia Thameslink Railway spokesperson said: "We are implementing over the coming weeks the biggest timetable change in a generation to boost capacity and improve reliability, introducing 400 extra daily trains and space for 50,000 extra passengers in the peak.
"Due to the scale and complexity of the task, these changes will be made incrementally. This involves redeploying drivers and trains and changing operating practices to achieve a large increase in the number of services, carriages and station stops.
"Despite some cancellations, passengers will benefit from an overall increase in capacity with immediate effect.
"We apologise to customers for any inconvenience caused."
We've contacted Northern and Transpennine Express for comment and will update this story when we hear back.
Additional reporting by the Press Association.