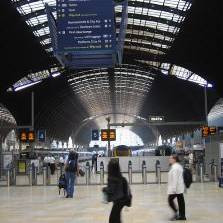 A train firm struggling with major disruption after a massive timetable overhaul is making cancelled trains 'disappear' from its website, app and departure boards. But if your journey's delayed, you CAN still claim - here's how.
On 20 May Govia Thameslink, which runs the Thameslink, Southern, Great Northern and Gatwick Express services, completely overhauled its timetable, as part of what's known as RailPlan 20/20. Since then, many passengers have faced disruption, with a large number of trains delayed or cancelled.
Now Govia Thameslink has decided to remove trains which have been cancelled from its departure boards, apps and website - but furious customers have complained that trains "disappearing" has made it even harder for them to know what's going on.
Don't let incomplete info put you off claiming. See how to check which delays you can claim for below, and our Train Delays guide for full help on your rights.
'Does RailPlan 20/20 include magical disappearing trains?'
While a brand-new timetable was supposed to kick in on 20 May, Govia Thameslink has been forced to instead introduce an amended timetable for Thameslink and Great Northern services as part of a "recovery plan". It's warned disruption could continue for weeks.
Now the firm's admitted it is removing cancelled Thameslink and Great Northern trains from "all channels" - including its departure boards, apps and website - but has said this is to make it easier for passengers to see which services are actually running. It's said it IS still showing cancelled trains for the Gatwick Express and Southern services, though some passengers have claimed otherwise.
Here are some of the complaints we've seen:
How to check which delays you can claim for - even if they've 'disappeared'
If your train's been delayed or cancelled, always check to see if you can claim a refund.
If you're on Thameslink, Southern, Great Northern and Gatwick Express you can claim if you arrive at your destination at least 15 minutes after you were supposed to - regardless of the reason - while with Northern and Transpennine Express it's 30 minutes.
Crucially, when checking how long you've been delayed you'll need to check the FULL timetable - even if a cancelled service has 'disappeared' from departure boards you CAN still claim against it. Here are the links to the timetables you can use to check how late you were:
On a number of Govia Thameslink routes going through the capital, including Peterborough to Horsham, Luton to Rainham, Luton to Orpington and Bedford to Brighton, the new timetable hasn't yet been implemented on weekdays, and it's only being implemented gradually over the coming weeks.
If you're delayed on these routes you'll need to check when you should have arrived against its interim timetables in order to see if you can claim.
For full step-by-step info on how to claim, see our Train Delays guide, but in brief:
The amount you get varies by company - but whichever route you're on, you can now opt for cash rather than rail vouchers. See individual firms' policies.
Keep hold of your tickets – you'll need to post them to the train company or scan them if applying online (it's much easier to claim with the original ticket).
Make a note of the length of the delay and the reason for it. Request a claim form from the station, your train company's website or by phone or claim online if possible.
Apply within the time limit, typically 28 days (but check).
If you're rejected for compensation or a refund but still think you have a case, complain. If necessary, take your complaint to Transport Focus.
What does Govia Thameslink say?
A Govia Thameslink spokesperson said: "We apologise to passengers for the continued disruption linked to the introduction of the new timetable. We are working on a recovery plan with rail industry partners.
"Meanwhile, as late notice changes continue to be made, we ask passengers to check train times on the day of travel. We expect disruption to ease over the coming month.
"The station information screens now show only what is running as a result of the amendments we have made to services on Thameslink and Great Northern.
"This prevents services from being pushed off our station passenger information screens by preceding cancelled trains, all of which helps passengers see what is running. This also allows us to let passengers know at the beginning of the day which trains are being removed from the timetable, with far fewer services cancelled shortly before they are due to run."