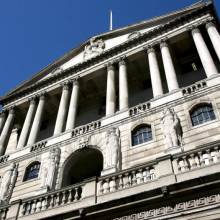 The Bank of England has today decided keep the base rate at 0.5%.
The base rate is the Bank of England's official borrowing rate, which influences what borrowers pay and savers earn. The last increase was in November 2017, when rates rose from 0.25% to 0.5% - the first base rate rise in a decade.
The bank's nine-member Monetary Policy Committee - which sets the base rate - decided to keep the rate at 0.5% during its past three meetings in December, February and March.
It voted by 7-2 today to keep the rate at 0.5%.