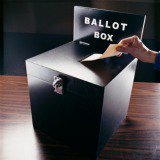 If you're voting today but don't have a polling card, fear not, almost everyone can vote without one.
Local elections are taking place across England today between 7am and 10pm and as long as you're registered on the electoral roll and give your name and address at the polling station, you will be able to vote - with the exception of five areas.
Voters in Bromley, Gosport, Swindon, Watford and Woking will need to take ID such as a passport or driving licence to the polling station - as part of a Government trial. Voters in Swindon and Watford will need their polling card with them too.
Voters are going to the polls to select their local councillors and in six areas, to select their mayor too.
Where is my local polling station?
You can check where your local polling station is using the Your Vote Matters website.
Just enter your postcode and the details of your nearest polling station and electoral registration office will appear.
Who needs to bring ID with them?
The Government is trialling a voter ID pilot scheme after reports of alleged electoral fraud through voter impersonation at previous elections.
If you are voting in Bromley, Gosport, Swindon, Watford or Woking, you'll need to bring your ID - check the relevant website for full details, including which forms of ID will be accepted.
If you're in Swindon or Watford you'll need your polling card too.
Can I still register to vote?
Unfortunately, the deadline for registering for the elections today has now passed but you can still register to vote for the next ones.
As well as the obvious benefits that stem from being able to vote, registering on the electoral roll can also improve your chances of being given credit by lenders. See our 60 seconds on the electoral roll guide for more info.