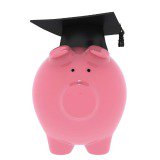 The interest rate charged on post-2012 student loans should be reduced to 1.5%, a parliamentary committee has said.
The House of Lords economic affairs committee says that a reduction in the interest rate would be "fairer" for students, and that interest should not be charged on loans until students have graduated.
The Treating Students Fairly: The Economics of Post-School Education report also claims that funding for post-school education is "too heavily skewed" towards degrees, while funding for other options is "less generous".
Student loan interest rates for current students on Plan 2 loans - English and Welsh loans for those who STARTED uni in/after 2012 - currently sit at RPI +3%, so 6.1%, and will rise again in September to 6.3%.
From the April after you graduate, the interest rate is RPI if you earn under £25,000 (so it will increase from 3.1% to 3.3%), up to RPI + 3% if you earn over £45,000 and a sliding scale in between.
Martin: 'Don't panic about interest rates'
MoneySavingExpert.com founder Martin Lewis has warned for a long time that there's no need to panic about interest rates, as bizarrely for most people the interest you end up actually paying is far less than the amount that's added to your loan statement.
Martin's Student loan interest rates are now 6.1% – should I panic or pay it off? guide explains this in more depth.
Last week, Martin also wrote a piece in the Financial Times titled Five changes to fix student finance.
In the piece, he wrote: "While I don't like the principle of charging students real rates of interest, in practice, only higher earners actually repay it.
"Instead [of lowering interest rates] we should focus on changes helping all students and graduates — prioritising ones that will ease the passage for those who struggle the most."
What does the economic affairs committee say?
Lord Forsyth of Drumlean, the Conservative peer who is chairman of the economic affairs committee, said: "Maintenance support should be available for all students studying at Level 4 and above [qualifications beyond A Levels]. The means-tested system of loans and grants that existed before 2016 should be re-instated, and total support increased to reflect the true cost of living."
He added: "The accounting trickery attempted by the Government in 2012, in which the high rate of interest on student loans created the fiscal illusion that Government borrowing is lower than it actually is, has had a devastating effect on the treatment of students in England. It is unacceptable to expect future taxpayers to bear the brunt of funding today's students."
What does the Government say?
A spokeswoman for Department for Education said it was "undertaking a major review of post-18 education and funding, to make sure students are getting value for money and genuine choice between technical, vocational and academic routes."
She added: "We will consider the report and will respond in full in due course."