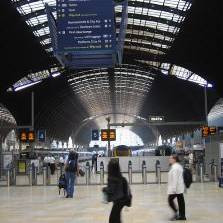 Commuters who've suffered severe disruption on Great Northern, Northern, Thameslink and Transpennine Express trains during a major timetable shake-up will be able to claim extra compensation by the end of July.
The under-fire Secretary of State for Transport, Chris Grayling, yesterday announced commuters on some Northern and Transpennine Express routes will be able to claim up to four weeks' worth of compensation in early July. The details of the separate Great Northern and Thameslink compensation scheme will also be announced then.
Grayling gave the further information during a debate on the House of Commons still had confidence in him being the Secretary of State.
Passengers have suffered severe disruption due to Govia Thameslink, which runs the Thameslink and Great Northern services, completely overhauling its timetable on 20 May. Transpennine Express and Northern also changed some times in a bid to improve efficiency - but amid many cancellations and delays, amended timetables have been introduced on Great Northern, Thameslink and Northern.
See our Train Delays guide for more information on what to do if your journey is disrupted.
What will I be able to claim?
We don't yet have full details, but here's what we know so far:
Northern and Transpennine Express commuters – those who buy weekly, monthly or annual tickets on affected routes (which are yet to be named) will be eligible to claim up to four weeks' compensation. The details will be confirmed next week, and payments are expected to begin in early July.
Great Northern and Thameslink – the compensation scheme, which is taking longer to finalise, will be similar to one run on Southern services last year in which commuters could claim up to a month's worth of travel. The details will be announced in early July and payments are expected to begin at the end of July.
We'll provide full info on how to claim the extra compensation as soon as it's announced. The Department for Transport has previously confirmed anyone who's already claimed for individual delays will also be able to claim the extra lump sum of compensation.
Make sure you claim NOW for each individual delay
If you're on Thameslink, Southern, Great Northern and Gatwick Express you can claim if you arrive at your destination at least 15 minutes after you were supposed to - regardless of the reason - while with Northern and Transpennine Express it's 30 minutes.
Crucially, if you're travelling on the Govia Thameslink network, when checking how long you've been delayed you can claim against the original timetable which was introduced on 20 May - even if your train firm is running an amended timetable. Northern has said to claim against the temporary timetable if there's one on your route. Here are the timetables for each of the firms:
See our Train Delays guide for full help on how to claim for disruption.