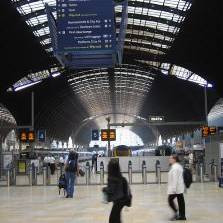 Season tickets and peak and off-peak fares could be scrapped as part of a radical rethink of Britain's entire train ticket system, while the changes could also mean you no longer need to split tickets to save. Here's how to have your say on the shake-up.
The Rail Delivery Group (RDG), which represents train firms, and passenger watchdog Transport Focus are together calling for a "root and branch" reform of the current system and have today launched a consultation to ask passengers how they would want a new system to work.
The current train fare system is based on regulations from the mid-1990s, which hasn't kept pace with customers' changing needs or new technology, and means there are now around 55 million different fares.
Both the RDG and Transport Focus want any changes to be "revenue neutral" overall - but a shake-up could see some individual passengers pay more and others pay less.
How does the ticket system currently work?
The current system is based on the assumption a customer will buy their ticket by visiting a ticket office - whereas many will now instead buy online or use ticket vending machines at stations.
The rules are set out in the 1995 Ticketing and Settlement Agreement, which is more than 400 pages long, and means all of Britain's 2,500 railway stations have to sell tickets to every other station.
On top of this further rules have been added through individual franchise agreements with each train firm.
All of the above combined mean it can be extremely confusing for passengers who are trying to find the best fare for their journey without visiting a ticket office.
Here's how to have your say
The consultation launches today and will run until 10 September. It asks passengers how likely they are to be in favour of some changes - here are examples of some of the ideas:
Fares designed so that it is unnecessary to buy a split-ticket – this would eliminate the case where it can be cheaper to buy multiple tickets for the same journey.
Whether there should be a price cap instead of season tickets – regular passengers would pay for each journey they make, but once they hit the price cap they won't pay any more for the rest of the week, month or year for example.
Fares based on the distance of the journey – eg, there could be a set cost per mile travelled.
Fares based on the level of service – so slower, less frequent trains could be cheaper than faster and more frequent trains.
Fares cost the same at all times – so there would be no peak and off-peak restrictions, therefore trains fares for current peak times could be cheaper but current off peak fares could increase.
The questions aren't the opinions of RDG and Transport Focus of how the reform should take place, but are designed to see which changes consumers would be in favour of.
Once the consultation is complete they will be used to help produce a final report to recommend to the Government how the system should be overhauled.
Any changes would mean changes to current regulations, and although they would not necessarily have to be passed as a law, they are still likely to take years to implement.
'The rail industry has grasped the nettle'
Anthony Smith, chief executive of Transport Focus, said:"Our research shows that rail passengers want a fares system that is simple to use, easy to understand and is flexible enough to cater to how people work and travel today.
"The rail industry has grasped the nettle and we will ensure the voice of the passenger is heard clearly as part of this consultation."
Paul Plummer, chief executive of the Rail Delivery Group, said: "Today, as part of our long-term plan to change and improve, our consultation about how regulation can be updated to create an easier-to-use fares system goes live.
"This consultation will ensure the views of passengers, communities and businesses will be represented when we present our proposals to governments later this year. Reforming the rules about how tickets are sold and bought has the potential to transform the buying experience for customers, making it easier for people to be confident they are getting the right ticket.
"These reforms support what the industry is already doing to make improvements to fares alongside record investment in new train carriages, upgraded stations and extra services."