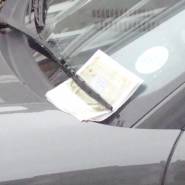 Private parking firms failed to fight more than 21,000 appeals from drivers who argued they'd been wrongly given a ticket - double the number the previous year.
The latest annual report from POPLA (Parking On Private Land Appeals), which is an independent appeals service for parking firms which are members of the British Parking Association (BPA), shows a huge increase in the number of appeals that firms are not bothering to fight.
Its figures show that more than a third of the 57,703 completed POPLA appeals in 2016-17 went unchallenged by private parking firms.
See our Fight Unfair Private Parking Tickets guide for more information.
What do the figures show?
The latest figures from POPLA, which is the appeals service for more than 100 private parking firms, show it dealt with almost 13,000 extra appeals between 1 October 2016 and 30 September 2017, compared to its first year of operating in 2015/16. Here are the latest figures:
Appeals for private parking tickets
| Private parking ticket appeals | 2015/16 | 2016/17 |
| --- | --- | --- |
| No. uncontested by private parking firms | 10,682 | 21,377 |
| No. appeals allowed by POPLA | 11,217 | 8,814 |
| No. appeals refused by POPLA | 21,404 | 27,512 |
The parking firm with the most appeals submitted to POPLA was Parking Eye, which had 17,597 in 2016/17. This compared to 13,971 appeals in 2015/16.
The 10 companies with the most number of appeals submitted made up 78.35% of all appeals in 2016/17.
The figures show Smart Parking had the highest number of appeals withdrawn, 6,722 out of 8,900 in 2016/17 - though it's not clear how many were withdrawn by the firm or by drivers.
What should I do if I get a parking ticket in a private car park?
If you get an unfair ticket in a private car park, DON'T automatically pay it. These supposed 'fines' handed out are merely invoices, often unenforceable.
There are three very different routes to fight unfair tickets, and the best route for you is likely to depend on whether the company that issued the ticket is part of a trade body and how militant you want to be. See How to fight private parking tickets for full info.
'It could leave potentially innocent motorists paying unfairly'
In its report, POPLA acknowledged that some appeals would always need to be withdrawn because of reasons such as new evidence.
But it added: "A high withdrawal rate could suggest that parking operators are not properly considering appeals at the initial stage and are waiting to see which of those will then take up the option to come to POPLA.
"This has potential to create a problem where motorists who receive a Parking Charge Notice do not have the confidence or understanding to bring their appeal to POPLA.
"If the parking operator has not properly considered their appeal, it could leave potentially innocent motorists paying a parking charge that has been unfairly issued."
A BPA spokesperson said: "The high number of withdrawn appeals in 2017 was investigated by the BPA and appropriate action taken, which saw an immediate reduction.
"It is usual to have around 25% of appeals withdrawn by operators and about 3% by motorists. This can be for a number of reasons, but quite often it is because more evidence is presented at the appeal stage."
A Parking Eye spokesperson said: "We have always been a member of the BPA and follow its strict code of practice in all the car parks we manage on behalf of our clients.
"We encourage people who have received a parking charge to appeal if they think there are mitigating circumstances. The appeal process is a way for us to fairly review charges on a case-by-case basis. All information received during an appeal is considered when deciding whether to cancel a charge."