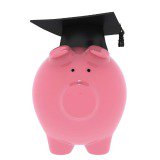 Universities say students and prospective students need clearer and better-targeted financial advice on the full implications of taking out a student loan - a call which is backed by MoneySavingExpert.com founder Martin Lewis.
A report from Universities UK, which represents the majority of universities across the UK, is calling for the Government to work in partnership with schools, universities and campaign groups to simplify the information on fees and loans and to ensure it is accessible to all prospective students.
Its findings are based on research from the National Education Opportunities Network (NEON) - a group which supports widening access to higher education - which included a survey of 1,500 students, prospective students and non-students, and focus groups with students taking post-16 qualifications.
See Martin's Student loan interest rates are now 6.1% – should I panic or pay it off? guide for more information.
What did the report find?
The main findings of the report are:
Living costs are a more significant concern for current undergraduate students than the level of tuition fees
Prospective and undergraduate students need clearer and better-targeted financial advice on the full implications of taking out a student loan
Prospective students are uncertain what universities spend tuition fees on
There was strong agreement that going to university generally helps graduates to earn more money in the longer term (64% of prospective students and 77% of undergraduate students agreed)
More than half of students believed they should make some contribution to the cost of their education
Martin: 'We need to change the language of loan statements'
MoneySavingExpert.com founder Martin Lewis said: "For over 25 years we have educated our youth into what we call a debt when they go to university, but never properly educated them about debt. And now the myths, misunderstandings and confusion around student loans are finally coming close to boiling point.
"The system changed in 2012, and the hundreds of thousands of graduates since then are shocked and scared when they are sent damaging and mostly meaningless statements by the Student Loans Company showing huge interest added each month. For many, this is meaningless as they won't repay most or even any of that interest. In practice, what we call a debt for most works far more like an additional 30-year 9% additional income tax in earnings over £25,000. That isn't cheap, but it is realistic.
"For too long, student finance has been a battered political punch bag. To score points, many deliberately play on the '£60,000 debt burden', yet that's not the practical impact on most people. You can argue that the current system is wrong, without the bitter scaremongering that risks putting young people off going to university for the wrong reasons.
"We need to change the language of loan statements, and we need schools, universities and Government to educate. This is a huge financial commitment and people need to understand it before they sign up."
What does Universities UK say?
Professor Dame Janet Beer, president of Universities UK and vice-chancellor of the University of Liverpool, said: "There seems to be a postcode lottery in terms of the financial advice available to prospective university students.
"Individual universities are increasingly including information on their websites to explain to students how this income is spent. But the information must become more accessible to students, and explain how fee income covers a range of areas such as libraries, sports facilities, careers advice, and counselling services."