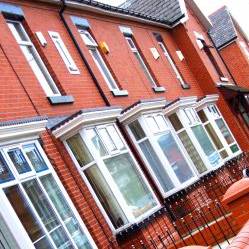 Dozens of mortgage lenders have agreed common standards to help up to 10,000 borrowers who are stuck on their existing deal - but 10,000s more so-called 'mortgage prisoners' will be left stranded.
59 authorised lenders have agreed to help existing borrowers on reversion rates - the rate your mortgage goes back to at the end of any incentive or fixed-rate period - who are up-to-date with repayments but, because of stricter affordability criteria, are unable to move to a cheaper deal provided by their lender.
The lenders have pledged to write to anyone in this situation by the end of 2018 if they haven't already done so, to let them know that they can switch.
But the commitment does nothing to help many tens of thousands of mortgage prisoners who are on deals with inactive lenders and unregulated mortgage owners, although the financial services trade association UK Finance says it is looking at how lenders can help these people in the future.
We've been fighting to help mortgage prisoners who have been told they 'can't afford' to switch to cheaper deals for several years now - Martin highlighted the problem back in 2015 in his blog: I'm taking on the EU Mortgage Credit Directive – it's going to create many mortgage prisoners.
Ready to remortgage? See our Remortgage Guide 2018 for full help.
Martin: 'This move only unfreezes the tip of the mortgage iceberg'
MoneySavingExpert.com founder Martin Lewis said: "This is welcome news, if hideously overdue. Two years ago, after I met then-Chancellor George Osborne, he agreed to write to mortgage lenders to inform them that the rules were pretty plain, and that existing borrowers should always be offered the same terms as new borrowers. The fact that they are now boasting about the agreement to do this shows how quite badly served mortgage prisoners have been.

"And this move only unfreezes the tip of the mortgage iceberg. Far more needs to be done. While this will help at most 10,000 mortgage prisoners, it'll only give them access to their own lender's deals, not the whole market. Plus there are many people locked away on hideously expensive deals, including former Northern Rock customers who it means nothing for.

"We need to review the entire structure of affordability tests for people remortgaging. Too many fail tests to get a cheaper deal than their existing mortgage - in other words being told 'you can't afford a cheaper deal'. This makes no sense."
Who have lenders agreed to help?
The lenders involved in today's announcement will be contacting customers who:
are first charge owner-occupiers
are existing borrowers of an active lender
are on a reversion rate
are looking for a like-for-like mortgage
are up-to-date with payments
have a minimum remaining term of two years
have a minimum outstanding loan amount of £10,000
are able to benefit from switching

A list of lenders that have agreed to meet the common standards can be found here.

If you meet the above criteria, it may be worth ringing your lender now, to see if it can put you on to a cheaper deal before it contacts you. Let us know if you have success with this by contacting us at mortgageprisoners@moneysavingexpert.com
Who will still be left stranded?
The Financial Conduct Authority's interim mortgage report in May found that there were an estimated 30,000 so-called mortgage prisoners - most of whom took out their deal before the 2008 financial crisis - who are unable to switch to a cheaper mortgage despite being up to date with payments.
Today's announcement helps up to 10,000 of these people - people who are with a regulator lender that is active in the mortgage market.
Another 20,000 who are with a lender which is regulated to lend but not active are still awaiting help.
In addition, the FCA report identified a further 120,000 people who can't get a cheaper deal than the one they're currently on because they have a mortgage which has been sold to a firm which isn't authorised to offer new mortgage deals. These people also won't be helped by today's announcement.
'This initiative will help a number of borrowers'
Kate Davies, executive director of the Intermediary Mortgage Lenders Association, said: "The FCA's interim report on its Mortgage Market Study acknowledged that the mortgage market is generally working well for the majority of borrowers.
"It noted that some improvements could be made for the minority groups who find themselves unable to switch products, as a result of regulatory changes brought into effect since they took out their loans.
"This initiative will help a number of those borrowers, and further work is planned to address the needs of others."

Jackie Bennett, director of mortgages at UK Finance, said: "Lenders have responded to the FCA's challenge and made a voluntary commitment to help these longstanding borrowers, offering them the ability to switch to an alternative product if they meet the agreed standard criteria – a potential solution that covers 93% of the residential mortgage market.
"We expect more lenders to participate in the coming months. Furthermore, we will be working closely with the FCA and active lenders to see what might be possible for customers of inactive and unregulated lenders. Participating lenders will be contacting qualifying homeowners so for now, customers don't need to do anything but wait to hear from their mortgage provider."