The cost of the cheapest energy deals on the market have soared this year, up nearly £50 since January, MoneySavingExpert research reveals.
At the start of the year, someone looking to switch could grab a cheap deal for a typical £807/year - it now stands at £853/year, a jump of £46/year in a little over six months.
Not only have we seen significant rises this year, but our research shows that over the last two years the cost of the cheapest deal has jumped by an average of £112/year.
Meanwhile, a round of hikes announced by the big six suppliers this year - impacting around 11.5 million households - will see their average standard variable prices jump by £75 this year, and by more than £160/year compared with July 2016.
To see how much you could save, do a full market comparison on our free Cheap Energy Club.
How have prices changed?
Just two years ago, in July 2016, the very cheapest deal on average across the whole month would cost a typical user £740/year, a massive £112 less than average cheapest this month.
Currently in July, the cheapest deal has averaged £852/year - the highest it's been since December 2016.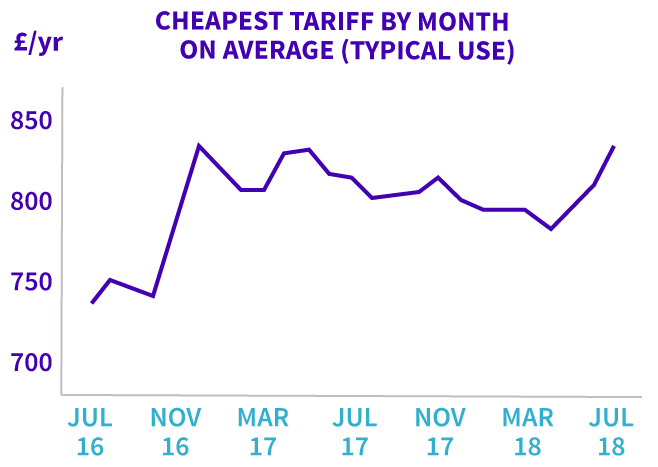 It's not just the cheapest deals that are on the rise – standard variable tariffs, which 57% of households are still on - haven risen substantially as well.
Back in July 2016, a typical user on a big six standard tariff paid £1,043/year. In 2017, five of the big six hiked prices in the spring, followed by British Gas at the end of summer. After these hikes, the average cost jumped by 6% - or £63 - to £1,131/year.
This year, we've had yet another round of hikes, with EDF the latest firm to increase its prices, announcing its second of the year earlier this month.
After these all hit, the average big six standard tariff will cost a typical user £1,206/year - up nearly 16%, or £163/year, on two years ago, and £75 (6.5%) following the 2017 price hikes.
Big 6 standard variable prices
Supplier
2016 (i)
2017 (i)
2018 (ii)
British Gas
1,026
1,101
1,161
E.on
1,027
1,123
1,208
EDF
1,051
1,142
1,228
Npower
1,057
1,166
1,230
Scottish Power
1,062
1,147
1,211
SSE
1,036
1,109
1,196
Average
1,043
1,131
1,206
Based on calculations from regulator Ofgem for medium usage of 12,000 kwh for gas and 3,100 kwh for electricity. All tariffs assume dual fuel and monthly direct debit. (i) Average standard variable prices at the end of the year. (ii) Average standard variable prices once all currently announced hikes come into effect.
If you're on a big six standard tariff, you're likely massively overpaying - most can currently save £350/year by switching.
Note: In October 2017, Ofgem changed its typical consumption values - what we use to calculate average prices. All prices before this have been re-calculated using new typical consumption values.
"Millions overpay for their energy as it is"
Guy Anker, deputy editor at MoneySavingExpert, said: "Millions overpay for their energy as it is and with prices rising – and the threat of further rises to come – it's important to check now to see if you can save hundreds from switching.
"The risk of waiting is that the best deals continue go up."
Why are prices rising?
Most firms blame prices on rising wholesale costs - what suppliers pay for their gas and electricity - as well as an increasing costs associated with government energy policy.

Some firms also partly blamed the cold weather earlier this year, with the so-called Beast from the East bringing snow to much of the UK back in March. As result, demand - and therefore wholesale prices - were higher, according to some companies.
What can you do?
The best thing you can do is switch your energy - as prices vary by region and usage, you'll need to a comparison. To find your cheapest, check through our Cheap Energy Club.
Or, if service is more important to you than just grabbing the cheapest, you can use our 'good' and 'superb' service Cheap Energy Club filters.
If you'd rather just stick with a name you know, you can use our 'big name supplier' filter.
And even if you're worried about switching firms, many can still save - though not nearly as much - by simply switching tariff with their current provider. Use our 'my current supplier' filter to check if you could save.