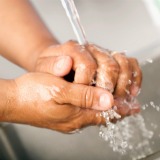 North west of England water supplier United Utilities has announced that a hosepipe ban will start on Sunday 5 August for its seven million customers.
The company, which manages the water network in Cumbria, Cheshire, Greater Manchester, Lancashire and Merseyside, says it was forced to announce the ban due to predicted hot dry weather for the rest of July.
United Utilities is the second provider to announce such a ban after Northern Ireland Water, which did so last month.
If you use a hosepipe to water your garden or plants, or to fill a paddling pool during the ban, you could risk a fine of up to £1,000.
To get help on reducing your water usage - see our Cut Your Water Bills guide.
Here's what you CAN'T do if a hosepipe ban is in place
The ban United Utilities has introduced is known as a Temporary Use Ban and it prevents people from:
Filling a paddling pool or swimming pool
Filling an ornamental fountain.
You will also be banned from using your hosepipe to:
Water your garden or plants
Clean your car, motorbike, boat, your home's walls or windows, paths, patios or other outdoor surfaces
"Draw water for domestic recreational use", which could include water balloon fights etc
Fill your pond
United Utilities has confirmed that customers will still be able to water their gardens with a watering can and wash their vehicles using a bucket and sponge.
Can I really be fined £1,000 for breaking a hosepipe ban?
If you are in an area where a ban has been introduced, you could be fined up to £1,000 if you're found to have breached any of the above rules which your water firm has imposed.
In practice, your company may issue you with a written warning as a first step.
We've been told that people get caught mainly when their neighbours report them to their water company. If you are found to be breaching the ban, you can be taken to Magistrates' Court by the water company and, if convicted, face a fine of up to £1,000.
Is anyone exempt from United Utilities ban?
The ban, due to come into effect on Sunday 5 August, applies to domestic customers in the north west of England who get their water supply from United Utilities.
Customers in Carlisle and the north Eden Valley are exempt, as water levels in those areas remain at reasonable levels.
You can search whether your household is exempt on the United Utilities website.
What does United Utilities say?
Martin Padley, United Utilities water services director, said: "Despite some recent rainfall, reservoir levels are still lower than we would expect at this time of year and, with forecasters predicting a return to hot dry weather for the rest of July, we are now at a point where we will need to impose some temporary restrictions on customers.
"It is not a decision we have taken lightly and we are enormously grateful to customers for having helped reduce the demand on our network over the last couple of weeks, but unless we get a period of sustained rainfall before 5 August these restrictions will help us safeguard essential water supplies for longer."