Best mortgage rates have remained steady since base rate rise - lock in a top rate now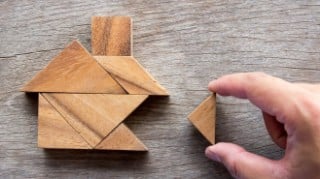 The best buy mortgage fixes have barely moved four weeks on from the base rate rise, with some lenders even dropping their rates, meaning there is still a window of opportunity to lock in low rates for anyone with up to six months left on their current deal.
The official borrowing rate – which underpins savings and mortgage rates – rose from 0.5% to 0.75% on 2 August and, as a result, those on standard variable rate (SVR) or tracker mortgages will see their bills go up, with many price rises coming into effect this weekend.
However, despite widespread predictions this would also have an immediate impact on the best fixed-term mortgage rates, MoneySavingExpert data reveals there have only been minuscule movements (see rates below).
This could be because the gradual increase we've seen in rates since their lowest-ever point (0.99% for a two-year fix with 60% loan-to-value in November 2017) meant lenders had already factored a potential base rate rise into their rates, eliminating the need to hike them again right away.
But with rates still historically low and expected to increase, it could be worth locking in today's rates if you're remortgaging or purchasing within the next three to six months.
See our Cheap Mortgage Finding and Remortgage guides, and our Best Buys tool to find the right deal for you.
For all the latest deals, guides and loopholes simply sign up today - it's spam free!
How have mortgage rates changed since the base rate rise?
Since the base rate rise four weeks ago, we've seen little movement in the best buys for fixes, with only a 0.03 percentage point increase in two-year fixes and no change in the lowest five-year fix rate. Today's cheapest rates on a £200,000 property with 60% loan-to-value today, compared with those before the base rate rise, are:
Two-year fix: Today - 1.38% (Yorkshire Building Society, £1,700 fee); pre-base rate rise - 1.35% (Yorkshire Building Society, £1,495 fee); August average* - 2.53%
Two-year tracker: Today - 1.44% (HSBC, £1,029 fee); unchanged from pre-base rate rise (though changes should come into effect this weekend); August average* - 1.95%
Five-year fix: Today - 1.83% (Skipton Building Society, £2,001 fee); unchanged from pre-base rate rise; August average* - 2.93%
*According to Moneyfacts UK Mortgage Trends Treasury Report
Interestingly, some lenders (including big names such as Barclays), have even dropped their rates since the base rate rise to remain competitive, thought they still don't feature in our best buy tables.
How early can you lock in a rate?
When we say "lock in", we mean how long an agreed mortgage offer lasts. Traditionally, it's either three or six months (you'll need to check with the lender), but some lenders are now offering even longer lock-ins (even up to 12 months), specifically for new builds, as there can be unforeseen delays.
If you are looking to remortgage, follow these steps (full info in our Remortgage Guide):
Check your current mortgage: rate, type (fix/variable), when the intro deal ends, the full term, early exit penalties & loan to value.
Benchmark a top new deal via our Mortgage Best-Buy Comparison.
See if you'll save on it with our Ultimate Mortgage Calculator.
Ask yourself, can I afford it, do I qualify, should I fix, etc? Mortgages are a maze, even if you've done it before, so a mortgage broker can help you decide what to do, plus they may have special deals you may not see direct. But you need a good credit record and lots of equity to bag yourself the top deals.
If you've three to six months left on your current mortgage, start looking NOW to try and bag the best rates before any potential increases. Always check with the lender how long it'll let you lock in for and how flexible it is on renewing offers.
'If your deal's due to end in 3-6 months, see what's out there now'
David Hollingworth of mortgage broker London & Country says: "Borrowers that have failed to review their mortgage for some time should take action as low fixed rates offer a chance to make a healthy saving as well as protect against any further base rate rises that could come further down the track. Even borrowers that are still in a deal can take advantage of current rates by securing an offer now that could be valid for up to six months.
"The market remains highly competitive and the fact that the base rate rise was expected means fixed rate deals had already priced the rise in. Ultimately, there's no guarantee the base rate increase won't have a greater impact on fixed rate mortgages going forward, so if your current deal is due to end in three to six months, it's worth seeing what's out there now."
For all the latest deals, guides and loopholes simply sign up today – it's spam-free!
Have your say
This is an open discussion and the comments do not represent the views of MSE. We want everyone to enjoy using our site but spam, bullying and offensive comments will not be tolerated. Posts may be deleted and repeat offenders blocked at our discretion. Please contact fbteam@moneysavingexpert.com if you wish to report any comments.
Update: We are aware that some users may currently be having issues seeing the comments and we're working on it.