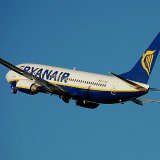 Ryanair has apologised after sending cheques that bounced to passengers who were owed flight delay compensation.
The budget airline said "less than 190 cheques" processed in July had been issued without a signature due to an "administrative error" and had therefore bounced.
It comes after Ryanair had to cancel hundreds of flights due to striking staff.
Ryanair said the cheques had been reissued to customers with a letter of explanation on Wednesday 15 August.
If you've had a flight delayed or cancelled you could be owed up to £540, see our Flight Delay Compensation guide which includes a free reclaim tool.
What did passengers say?
A number of passengers complained their cheques had failed to clear.
@Ryanair You sent me a compensation cheque for a delayed flight. It bounced as it wasn't signed. Resolver notified you of this on 09/08. When can I expect a new cheque? Thanks.

— kevpalmeras (@kevpalmeras) August 18, 2018
@Ryanair I have been trying to get hold of someone urgently as my bank are concerned because a compensation cheque that I recieved has bounced, i think that this is outrageous, the bank said the bank details provided do not exist...how is this possible with a printed cheque....

— Ben Lonsdale (@BenLonsdale6) August 14, 2018
@Ryanair I would love to know why the cheque you sent me for compensation has bounced... Bank assure me this is your fault, wait 1 hour 20 on hold and your "customer services" cant help and there is no number to call to those who can? Please assure me of a call to fix this asap.

— Alec Norton (@Alecjn) August 8, 2018
When can you claim for a flight delay?
There are many rules around whether a flight delay meets the criteria for compensation and we have all the details in our Flight Delays guide, but in brief:
You must've arrived more than three hours late (see how to check past delay lengths).
The flight must have left from an EU airport, or you must have arrived at an EU airport on an EU airline. Under this law, EU airports also include those in Iceland, Liechtenstein, Norway and Switzerland.
It must be the airline's fault – eg, airport strikes aren't covered. What counts?
How much you can claim is fixed, based on delay and journey length. What am I owed?

Our step-by-step guide includes our free online tool to help draft and manage your complaint (plus free template letters if you want to do it yourself), how to stop the airlines squirming out of paying and the latest on the court cases surrounding claims.
What does Ryanair say?
A spokesperson for Ryanair said: "Due to an admin error, a tiny number of cheques (less than 190 out of over 20,000 compensation cheques in July) were posted without a required signatory.
"These cheques were reissued last week and we apologise sincerely for this inconvenience which arose out of our desire to issue these compensation cheques quickly to our customers."
Additional reporting by the Press Association