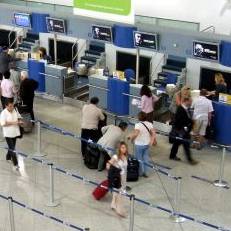 Wizz Air had the worst punctuality record of the UK's busiest airlines, Civil Aviation Authority data has shown.
Analysis of the regulator's data by the Press Association found that the low-cost carrier's UK departures were 23 minutes late on average in 2017, compared to an average delay of 15 minutes for all of the 44 airlines included in the piece.
Norwegian had the second worst performance, followed by Vueling Airlines, Thomas Cook Airlines and BMI Regional.
The data also showed that Scandinavian Airlines was the most punctual, with aircraft typically taking off just seven minutes behind schedule. Aer Lingus had the second best record, followed by Air France, Alitalia and Delta Airlines.
The rankings, which were taken from Civil Aviation Authority (CAA) data, features the 44 airlines with at least 2,000 scheduled flights from UK airports last year. The average delay figures take into account every flight that operated, including those that were on time. Cancelled services are excluded.
When can you claim for a flight delay?
There are many rules around whether a flight delay meets the criteria for compensation and we have all the details in our Flight Delays guide, but in brief:
You must've arrived more than three hours late (see how to check past delay lengths)
The flight must have left from an EU airport, or you must have arrived at an EU airport on an EU airline. Under this law, EU airports also include those in Iceland, Liechtenstein, Norway and Switzerland.
It must be the airline's fault - eg, airport strikes aren't covered. What counts?
How much you can claim is fixed, based on delay and journey length. What am I owed?

Our step-by-step guide includes our free online tool to help draft and manage your complaint (plus free template letters if you want to do it yourself), how to stop the airlines squirming out of paying and the latest on the court cases surrounding claims.
What do the airlines say?
A spokesperson for Wizz Air said: "A number of issues specific to the UK, including airport infrastructure, airspace congestion and slot restrictions contribute to a significantly worse on-time performance of our UK routes compared to the rest of our network."
A spokesperson for Norwegian said frequent air traffic control (ATC) strikes across Europe and adverse weather "invariably impact punctuality" and are beyond the control of airlines. He added: "Norwegian is committed to keep improving punctuality, and where factors are within our direct control we have introduced new measures to continue delivering a smooth, efficient experience for our passengers."
We have contacted Vueling Airlines, Thomas Cook Airlines and BMI Regional for comment.
The CAA said punctuality "clearly matters to airline passengers" and it publishes the airlines' performance to allow people to "make informed choices about which airline to fly with".