Help to Save for those on low incomes gives up to £1,200 bonus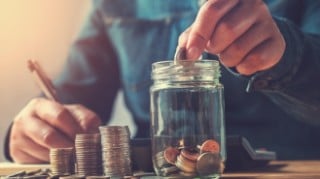 A new savings scheme which gives up to a £1,200 bonus to people on low incomes has been launched.
The Government's Help to Save initiative, which is available to working people on tax credits and universal credit, rewards savers with an extra 50p for every £1 saved. Around 3.5 million people currently meet the eligibility criteria.
It is a new type of savings account specially designed for low-paid workers. You can save between £1 and £50 every month, and at the end of two and four years, you're paid a 50% bonus, up to a maximum £1,200.
For full help on getting the best savings rates, see our Savings section - our Top Savings Account guide lists all our current top pick easy-access and fixed-rate savings accounts.

Martin: 'It's possible to get the best of both worlds'
MoneySavingExpert.com founder Martin Lewis said: "The great concern with Help to Save was that it would encourage people to save when they should instead be paying off debts, including some extremely expensive ones like payday loans. Yet they have managed to work a structure that enables people possibly to have the best of both worlds.
"The fact that you are given the bonus based on the highest amount you have saved, rather than the amount that you actually have in there, means you can build up your savings until you have an emergency that you would otherwise have borrowed for and then use your savings instead of borrowing - but you'll still be rewarded for the fact that you saved in the first place.
"It's a very clever scheme and one that will work for many people. Of course though, if you have extremely expensive debts, rather than saving, it's best to try and clear those first."
Am I eligible for Help to Save?
To get one, you need to be a UK resident (or posted overseas with the armed forces) and:

Entitled to working tax credit and receiving working/child tax credit payments.
Claim universal credit and have an individual/household income from employment of £542.88 or more for the last monthly assessment period.
If this is you, check your personal tax account or the HMRC app. You will be able to open an account up until September 2023.
If you've got debts, we've got tons of information to help in our Debt Management guide.
How does the Help to Save account actually work?
On the face of it, it's pretty simple. You can save between £1 and £50 each month for two years into the Help to Save account, though you don't have to save every month. It's not locked away, so you can make withdrawals if you need to.
At the end of the two years, you'll get the first 50% bonus. You can then choose to stop saving and withdraw the cash, or keep the account for another two years, again saving up to £50 every month, and potentially get another bonus paid at the end of the four years.
There are a couple of boons with the bonus, though:
The bonus for the first two years is paid on the highest amount you had in the account during the two years, before any withdrawals.

For example, if you managed to save £1,000 but withdrew £200 of it just before the two years were up, despite having a balance of £800 you'd still get a £500 bonus, as that's 50% of your highest balance, which was £1,000.
The final bonus after four years is worked out by deducting your highest balance from the first two years, from your highest balance in the final two years.

For example, if your highest balance was £1,000 in the first two years you'll get an initial bonus of £500. If you keep your account open for a further two years, and in this time your highest balance is £1,500, you'll get another £250 bonus.
The bonus will be paid into your bank account, not into the Help to Save account.
How do I open a Help to Save account?
You can open a Help to Save account online via the Government website. You'll need a Government Gateway account, but if you don't have one you can set one up during the application process.
When you apply, you'll need to provide your bank details. You can then make payments into the account using a debit card, bank transfer or standing order.
Are my savings secure?
The Help to Save account is run on the National Savings & Investment (NS&I) platform – it will hold your cash.
NS&I is the Government's savings provider – meaning your deposits are held in 100% safety.
Do I need to be in work to open a Help to Save account?
Not necessarily. If you claim tax/universal credit as a household, and you qualify as a household, then both of you will be able to open an account.
You won't be able to open a joint Help to Save account, it's one per eligible person.
Will saving in this account have any effect on the benefits I receive?
On its own, no – if these are the only savings you have.
If you've other savings, then saving here could have an effect if it puts you over the universal credit savings threshold of £6,000. Above this, you lose £4.35/month of universal credit for every £250 you've saved over £6,000 (savings of more than £16,000 disqualify you from receiving universal credit).
If you get working tax credit, the Help to Save bonus isn't taxable so doesn't count as 'other income' as normal savings interest would, which means you shouldn't see any effect on your benefits in the year the bonus is paid.
Additional reporting by Callum Mason.
For all the latest deals, guides and loopholes simply sign up today – it's spam-free!
Join the MSE Forum discussion