Halifax mortgage-holders to get cash back after interest error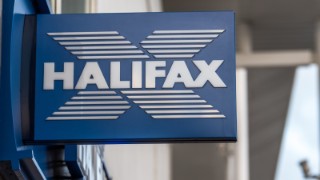 Tens of thousands of Halifax mortgage customers are to be given a redress payment of £20 after the bank uncovered an error in the way interest has been charged that dates back eight years, MoneySavingExpert.com can reveal.
Those who chose to overpay their mortgage, pay weekly or make one-off payments at any point since 2010 may have been charged too much interest due to the error.
Halifax won't say exactly how many customers have been overcharged, though it's understood to be 10,000s. It says the vast majority of those affected will have overpaid by under £10, in some cases by just a few pennies - but anyone who's lost out is being offered £20 redress as a cheque.
If you've been a Halifax mortgage-holder since 2010 – even if you've now switched to another provider – look out for a letter from the bank so you don't miss the money.
Looking to remortgage? See our Free PDF Guide to Remortgaging.
How did Halifax overcharge customers?
Halifax says it has identified that some customers' mortgage payments were not applied correctly since 2010, meaning they paid marginally too much interest.
The error impacted 10,000s of customers who chose to make small payments other than their regular monthly mortgage payment – so customers who overpaid their monthly bill, made one-off manual payments or opted to pay weekly.
One MoneySaver, Clare Carney from Blackburn, contacted us after she and her husband, who are ex-Halifax customers, were offered £10 each. Clare was initially sceptical about the letter, asking: "Is this a scam?"
But Halifax confirmed it wasn't, and that between 2015 and 2017 Clare's mortgage account had two payments applied incorrectly.
Potentially affected? Look out for a Halifax letter
If you have been affected, Halifax will have written to you – so you should have received a letter or be due to receive one very soon.
Even if you're not a customer, don't ignore any post from Halifax if you think you may have been affected.
The letter will offer you £20 – or £10 each if you have a joint account – in the form of a cheque, which you must cash within six months.
An image of the letter can be seen below: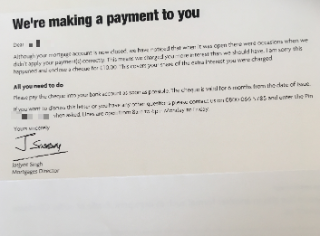 Left Halifax and moved home? It may be worth calling
While Halifax is proactively contacting all those who are affected, if you moved away from Halifax some time ago and have since moved house, there's a chance it may not have your up-to-date contact details.
If this applies to you and you think you could have been affected by the issue – for instance, if you know you made one-off payments back in 2012 – it may be worth contacting Halifax to check if it's trying to contact you and supply your correct address. To do this, ring its customer service number on 0345 720 3040.
'You may not be aware you lost out'
MoneySavingExpert news and features editor Steve Nowottny said: "Mortgage-holders will be astonished that this kind of error could have sat undetected for eight years – but Halifax is at least taking action now to ensure those who've lost out are refunded.
"The key point here is that you may not be aware you lost out even if you did, because in some cases the bank overcharged by just a few pennies. So keep an eye out for a letter and cheque from Halifax – and if you expect to get one and don't, or you've since left Halifax and moved house, contact the bank yourself to check if you're affected."
What does Halifax say?
A Halifax spokesperson said: "We have identified a small number of mortgage customers whose payments were not applied correctly, meaning they may have paid slightly more than they should in interest.
"We have written to impacted customers to apologise and make a payment of £20 to ensure no financial detriment."
What to read next...
For more help on cutting the cost of your mortgage, see our Mortgages & Homes section, including:
For all the latest deals, guides and loopholes simply sign up today – it's spam-free!
Join the MSE Forum discussion