Rail passengers promised 'one-click' compensation for delays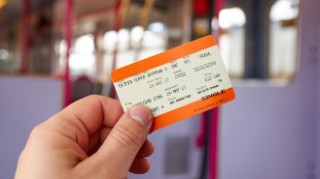 Rail passengers who suffer delays and disruption will be able to get compensation with just one click, the Transport Secretary has announced – but there's little detail yet on how or when it'll happen.
Speaking at the Conservative Party Conference today, Chris Grayling said changes would be made to make the claiming process easier.
Grayling said: "Trains are packed, the network is creaking, passengers experience too many things going wrong.
"We need to look after them when that happens, which is why today I can announce that we will introduce one-click compensation for delays and disruption, making it easier for people to claim compensation."
Under the proposed new system, passengers will be able to register once and then won't have to enter their details every time they want to claim.
We don't know much else about how the system will work at this stage, but the Department for Transport (DfT) says passengers buying advance and season tickets from the train operator will need to register their contact details and confirm how they wish to receive compensation in future with the train operator.

They will then receive advice when a journey is eligible for Delay Repay compensation and be able to complete a pre-filled claim form with just 'one click'.
The DfT says the scheme will be introduced through future DfT-run franchise competitions, so it could be some time before we see them in action.
For full help on how to claim for rail delays at the moment, see our Train Delays guide.
More passengers getting compensation for delays
Today's announcement coincides with the publication of DfT reports that show the total amount of compensation paid to passengers has risen by 80% in the past two years.
Claims are also being dealt with more quickly, with 67% now resolved within two weeks, compared with 48% in 2016.
The reports also show 53% of passengers are now claiming for compensation online, up from 31% in 2016, with users of smartcards or mobile phone tickets most likely to claim.
How can I claim when my train is delayed?
For full step-by-step info on how to claim for rail delays at the moment, see our Train Delays guide. But in brief:
Keep hold of your tickets. You'll need to post them to the train company or scan them if applying online (it's much easier to claim with the original ticket).


Make a note of the delay and the reason for it. Request a claim form from the station, by phone, or visit your train company's website.


Apply within the time limit, typically 28 days.


If you're rejected for compensation or a refund but still think you have a case, complain. If necessary, take your complaint to independent passenger watchdog Transport Focus.
For all the latest deals, guides and loopholes simply sign up today – it's spam-free!
Join the MSE Forum discussion