More Great Northern and Thameslink passengers urged to claim compensation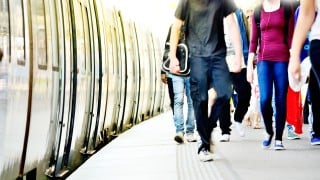 Many Great Northern and Thameslink passengers wrongly think they're not eligible to claim compensation for the severe disruption they suffered during a major timetable overhaul, the transport watchdog has found.
Great Northern and Thameslink season ticket holders and part-time commuters are being offered up to a month's travel costs back as additional compensation for the disruption caused by May's timetable overhaul.
But in a survey, Transport Focus found regular travellers had incorrectly ruled themselves out of receiving compensation.
The watchdog is now urging customers to claim and asking the train operators to do more to let customers know how to do so.
Passengers have until 31 January 2019 to claim, after the deadline was extended from 4 December.
See our Train Delays guide for full help on your rights.
What did Transport Focus's survey find?
Transport Focus found that awareness of the additional compensation scheme among passengers who use Great Northern or Thameslink trains at least a few times a month is good, with 89% saying they have heard of it and 29% saying they know a lot about it.
But although the majority of passengers know of the scheme, only 58% who are likely to be eligible to claim actually think they can, which shows many are likely to miss out.

Who is eligible for compensation?
Whether you're owed compensation, and how much, depends on your exact situation.
If you're a season ticket holder on a route where Thameslink or Great Northern operates a significant proportion of the train service, you may be owed extra compensation – though it depends on your route, ticket and travel dates.

To be eligible, you'll need to have had between one and four weeks' worth of season tickets which were valid between 20 May and 28 July on qualifying routes.

There are two levels of compensation offered – you'll get a week's worth of travel back or a month's worth back depending on where you travel from or to. See which stations fall into which category on the Thameslink website.


If you're a part-time commuter, the situation depends on the extent to which you were affected and which route you travelled on.

Passengers who made a minimum of three days' return travel in any week, Monday to Sunday, between 20 May and 28 July from the most affected stations qualify for compensation, and passengers using discounted books of carnet tickets are included.

Full information is available in our Part-time Thameslink and Great Northern commuters to be paid extra compensation MSE News story.
What evidence do you need to claim?
Passengers should provide tickets, receipts or other proof of travel where possible to support compensation requests. Oyster pay-as-you-go and contactless users should have ideally registered their card on the TfL website and requested a journey history to use as evidence.
But Transport Focus has found that Oyster journey histories from the disrupted period are no longer available to passengers.
It has therefore urged the train companies to remind customers that while it helps to provide an Oyster journey history, they only actually NEED to submit their Oyster card number, from which train operators can obtain a longer journey history.
It also wants operators to remind customers that they can claim additional compensation even if they used Delay Repay or claimed for enhanced compensation – recompense for season ticket holders who consistently experience delays of 30 minutes or more – during the disruption.
What does Transport Focus say?
Anthony Smith, chief executive of the independent watchdog Transport Focus, said: "It's important that more Govia Thameslink Railway [which runs Great Northern and Thameslink] passengers claim compensation before the deadline, so they send a clear message to the rail industry. Make a claim, make sure your voice is heard!
"While many passengers who've already claimed say that they found the process of doing so easy, there are many more Thameslink and Great Northern passengers who are eligible.
"Govia Thameslink Railway can do more to raise awareness among passengers who travelled on daily tickets, including those issued by Transport for London or those using an Oyster card."
What do the train firms say?
A spokesperson for Great Northern and Thameslink said: "We have already paid out more than £16 million in additional compensation to 70,000 passengers in recognition of the serious disruption they suffered earlier this year.
"This survey shows that nine out of 10 passengers are aware of the additional compensation scheme. We have advertised and promoted it extensively, and made direct contact with 175,000 people. Most people Transport Focus spoke to said they found it easy to claim.
"We have already acted on the Transport Focus recommendations and urge all our Thameslink and Great Northern passengers to check if they are eligible and make a claim at our website."
They added that there is a dedicated customer support team on 0345 026 4700.
For all the latest deals, guides and loopholes simply sign up today – it's spam-free!