Trustpilot warns energy firm over 'fabricated' reviews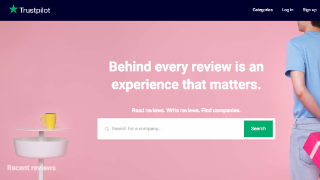 Toto Energy has been hit with a warning from review site Trustpilot after a manager at the energy firm appeared to ask other staff to leave five-star reviews there to woo potential customers.
Trustpilot has sent the small supplier what's known as a 'cease and desist' letter – usually used to warn that legal action could be taken. This followed its fraud detection software identifying and removing a number of "fabricated" reviews for the company from its site.
The action comes after MoneySavingExpert.com obtained a screenshot showing a senior employee at Toto Energy messaging other staff to ask them to "give a five-star rating" and linking them to the Trustpilot website.
Toto Energy denies that it has ever fabricated reviews and says the word "give" in the message was "common slang" to mean "get", and that the sender was actually asking staff to encourage customers to give positive reviews.
Use our free Cheap Energy Club to filter firms by their customer service rating, and to check if you can save £100s by switching.
'Can you give a five-star rating please?'
Last month, MoneySavingExpert was shown a screenshot that had been sent to a group on messaging app WhatsApp called 'Toto - Field Sales'.
When we put the messages to Toto's media team, it confirmed that the screenshot was from a WhatsApp group used by one of its senior managers to communicate with its management team. It said there were 12 people in the group.
It said the message (below) was not intended to encourage fake reviews.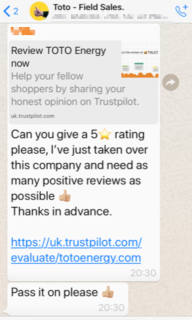 What are Toto Energy's service ratings?
At the time of publication, Toto Energy has a three-star rating on Trustpilot from 11,772 reviews. Of these, 47% are rated 'excellent', 14% 'great', 5% 'average', 4% 'poor' and 30% 'bad'.
We've long warned about Toto Energy on our Cheap Energy Club, citing its customer service record. Last year, it apologised for customer service issues.
In a poll we ran in November, we asked MoneySavingExpert users to rate their energy provider. From 28 votes, 19 rated Toto Energy 'poor' and nine rated it 'great'.
What does Toto Energy say?
A spokesperson said: "It is the normal course of business to ask our front-line staff that they encourage our customers to give positive reviews, should they feel able. To be specific, in this case, 'give' should be read as 'get'. This is common slang used in informal messaging."
They added: "Toto Energy does not fabricate or engage others to fabricate reviews on Trustpilot's websites.
"We do take Trustpilot's letter seriously and have asked Trustpilot to provide more information so we can fully understand the nature of their concerns."
What did Trustpilot do?
We reported the messages to Trustpilot in mid-March. It said its compliance team had previously issued a warning to Toto Energy, and this combined with the evidence we provided resulted in the cease and desist letter.
Following Trustpilot's investigation into the issue, a spokesperson said: "Our automated fraud detection software has identified and removed a number of fabricated reviews and we have issued a cease and desist legal letter to the company that may result in a consumer alert being placed on the company's Trustpilot profile."
Trustpilot's "consumer alert" is a big yellow banner that would sit on Toto Energy's profile page to warn consumers it was misbehaving or trying to manipulate the platform.
Trustpilot has guidelines which companies using its platform must adhere to.
The guidelines say: "The company is not permitted to invite or otherwise encourage its employees, former employees, owners or directors, or their family members to write reviews about the company."
'Such behaviour erodes trust in what should be a valuable service'
MoneySavingExpert.com deputy editor Guy Anker said: "It is shameful of any company to try to manipulate review sites – and this is far from the first such story as it's sadly becoming commonplace.

"Many of us rely on review sites as a key part of deciding which products or services to choose – whether it's energy, a restaurant, hotel etc – and such behaviour erodes trust in what should be a valuable service.
"If reviews look suspicious then don't believe them and move on. Tell-tale signs include reviews that are incredibly similar to each other that look like they're from the same person. Or those with perfectly crafted, almost marketing-like language."
What is the law on reviews?
According to the Competition and Markets Authority, businesses that write online reviews about their own products by pretending to be customers are breaking the law.
The Consumer Protection from Unfair Trading Regulations 2008 ban traders from falsely representing themselves as a customer, eg, leaving a review.
The watchdog has previously taken enforcement action against a company that wrote fake online reviews in the past.
For all the latest deals, guides and loopholes simply sign up today – it's spam-free!
Join the MSE Forum discussion