More jobseekers using FREE railcard to get 50% off fares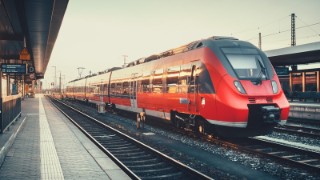 Free railcards which give those seeking work 50% off many train fares are proving increasingly popular – particularly outside the capital.
New figures obtained by MoneySavingExpert.com show that in the year to March 2019 557,698 journeys were made using the Jobcentre Plus Travel Discount Card, up 7% on the previous year. It comes after a publicity campaign – supported by MSE – by the Rail Delivery Group, which represents rail firms.
In some parts of the UK, there were much bigger increases in use, with a 104% rise in the West Midlands and an 81% jump in the North West. The only region to see a drop was London, where the railcard is already used most widely.
The railcards are available to those on jobseeker's allowance or those who are job hunting and have been claiming universal credit for at least three months – see full details on how to apply below.
For more info on railcards, plus other ways to cut the cost of rail journeys, see our Cheap Train Tickets guide.
What does the 'jobseekers' railcard' offer?
All train operators in England, Scotland and Wales offer those with the Jobcentre Plus Travel Discount Card a 50% discount on anytime day tickets, off-peak day tickets and season tickets, for up to three months. The railcard is not available in Northern Ireland.
Transport for London (TfL) also accepts the card. If you use it with an Oyster card you get:
50% off pay-as-you-go fares on all forms of TfL transport (including trains, underground, buses and more).
Seven-day, monthly or longer period (up to three months) travelcards at a child's rate. A travel card will get you on to the tube, DLR, London Overground, TfL Rail and National Rail services in the zones you buy it for, as well as all buses and – if your Travelcard is valid in zones 3, 4, 5 or 6 – all trams.
Seven-day or monthly bus and tram passes at a child's rate.
While the railcards can be valid for up to three months, the exact length you'll get one for is at the discretion of the Jobcentre you apply to.
How do I apply?
The process for getting a Jobcentre Plus Travel Discount Card is as follows:
Step 1. You need to have been claiming jobseeker's allowance or job hunting and claiming universal credit for at least three months. Your age helps determine the exact length of time you need to have claimed for:

If you're aged 18-24... you can get the card if you've been receiving the required benefits for between three and nine months.
If you're 25 or older... you can get the card if you've been receiving the required benefits for between three months and a year.

You might also be able to apply if you've been claiming certain other benefits such as incapacity benefit, income support or employment and support allowance for at least three months AND you're actively looking for work via a Jobcentre.


Step 2. Apply to the Jobcentre and explain why you need the card. If you meet the criteria outlined above, you can apply in person at your nearest Jobcentre Plus. However, crucially you're NOT guaranteed to get a card when you do this, even if you do meet the criteria above.

The Department for Work and Pensions says the cards are awarded on a case-by-case basis, so to get one you need to speak to Jobcentre staff about your circumstances and they will decide whether you should be issued with a card, and if so, how long for.

One reason why you might be refused a card is if transport by rail isn't as easy or accessible in your area as it is in other areas.
If you are refused a card, unfortunately there's no way for you to appeal against the decision.
Where is the railcard being used more?
The table below shows where the railcard is being used.
Region
Journeys
(Mar 17 - Feb 18)
Journeys
(Mar 18 - Feb 19)
Change in use
London
288,572
258,696
-10%
South East
85,524
95,153
+11%
East
44,716
54,047
+21%
Scotland
35,358
36,226
+2%
West Midlands
20,550
41,899
+104%
North West
17,772
32,147
+81%
Yorkshire and Humber
8,899
13,696
+54%
South West
5,689
9,821
+73%
East Midlands
5,250
7,349
+40%
Wales
4,545
4,967
+1%
North East
1,947
3,424
+76%
What does the Rail Delivery Group say?
Rail Delivery Group chief operating officer Jacqueline Starr said: "Rail companies want to help people back into work, in turn strengthening communities and the economy.
"Our work to raise awareness with jobseekers has led to thousands more journeys with the Jobcentre Plus Travel Discount Card and supported increasing levels of employment, but we want even more people to know about it so they can benefit from travelling by train."
For all the latest deals, guides and loopholes simply sign up today – it's spam-free!
Join the MSE Forum discussion