'We got our dream wedding for £2k'
One MoneySaving couple pulled out all the stops to throw their dream wedding for just £2,000, including making their own flowers and using a discount card to bag 2for1 cocktails.
The average wedding is estimated to cost £30,000 – but MoneySaver Bridget, 51, and her husband Derek, 55, from Bristol, managed to spend just a fraction of this when they tied the knot.
The long-time MSE users cut costs with a combination of careful planning, homemade touches and ingenious discounts. And now they're married, they've wasted no time in carrying on their savings by applying for the marriage tax allowance, which they read about in MSE's weekly email.
Last month, Bridget posted on the forum to share her tips on planning a dream wedding without a nightmare price tag, in the hopes that others will be able to save too.
See our Weddings on a Budget guide for full help on cutting costs for the big day.
Playing the wedding prioritisation game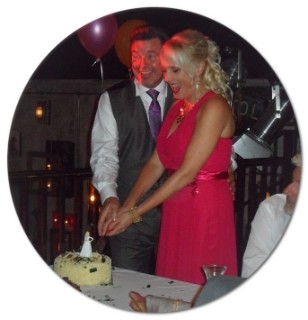 When Derek proposed to Bridget in late 2017, the couple's main wish was for their parents and families to be able to attend – and they didn't want to delay the wedding while they saved up for a blingy bash.
So when they started planning the day, they played our wedding prioritisation game and listed their priorities on a big piece of paper, marking down the non-negotiable costs – such as the registry office fee – and the bonus extras they could compromise on.
They came up with a shopping list of wedding items before their big day last October, and found ways to save on all of them:

£200 rings. Bridget and Derek were shocked at the price of buying gold rings from mainstream jewellers, but friends recommended a second-hand jewellery shop where they were able to find a matching set of rose gold wedding bands for less than £200 in total.


£120 dress. Bridget found a cherry pink ballgown for around £120 in Debenhams, while Derek opted for a checked suit he'd be able to wear again for future events.

And Bridget didn't have to shell out for her wedding hairstyle, as a friend paid for a hairdresser as a wedding gift.


£230 registry office. Bridget and Derek chose to get married on a Friday, which cut the registry office fees to around £230 to get married in a historic room at the council chambers.


£570 reception venue. The couple reserved a room for their 38 guests at Revolution Bar in Bristol, including their own private area, decorations, a two-course meal, and music from the venue's DJ.

The meal came in at £15 per head, which covered Revolution's minimum tab for the private area. A similar venue Bridget had spoken to wanted £4,000 for a room and meal – double the amount the couple ended up spending on the entire wedding.


£880 on the rest, including Asda cakes, homemade flowers and favours. The couple bought three cakes from Asda, which they livened up with decorative butterflies and a bride and groom figurine, as well as festive sparklers provided by the venue.

Bridget taught herself how to make fabric flowers by watching YouTube videos, and she and Derek made the bouquets and buttonholes together out of silky fabric bought from their local superstore. As it was an autumn wedding, they chose a harvest colour scheme of pinks and orange – and kept the bouquet and gave away buttonholes to their guests to keep as souvenirs.

The couple also made their own wedding favours with fortune cookies from eBay and 'Just Married' sweets bought in bulk.


2for1 drinks. Derek and Bridget didn't provide drinks, but agreed with the venue on a list of cocktails for the wedding party to buy.

These were half price when the wedding party arrived as it was happy hour, and once this was over Derek's son bought a discount card for £4 (now reduced to only £2), which he managed to use to get half-price drinks and 2for1 cocktails for the entire party for the rest of the night.
In total, they spent £2,000 after opting to skip some of the usual wedding spending – for example, asking friends and family to share photographs of the day rather than having a professional photographer, and using a local taxi service to get to the venue rather than hiring a wedding car.
And the couple even managed to save some money for their overseas guests by negotiating a discount at a hotel round the corner from the venue.
'The best thing is we're not still paying for it!'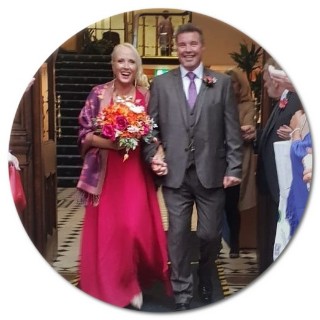 The pair also decided to ask for cash rather than wedding gifts, which Bridget admits felt awkward at first.

But Martin's blog explains why you shouldn't be afraid to ask for cash as a gift, while Bridget says reading about other people's experiences on the MSE Forum helped her pick up some tips on how to word the request – some have even penned poems to include with the wedding invitations.
In the end, the generosity of the couple's family and friends meant their cash gifts covered the cost of the entire wedding, and left them with some spare to spend on holidays, including their honeymoon to the Canary Islands.

Bridget told us: "We were beaming for weeks afterwards – everyone said it was the best wedding they'd been to.
"We didn't want anything flash, but it was relaxed and fun and everyone let their hair down.
"We bought the different bits month by month, so we didn't need to borrow or save a big wedding fund – the best thing is we're not still paying for it!"
For all the latest deals, guides and loopholes simply sign up today – it's spam-free!
Join the MSE Forum discussion