Passengers could face 50p charge to cover airline collapses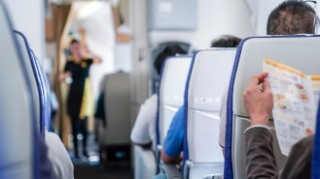 Airlines should pay up to 50p for every passenger they fly to a flight protection scheme to protect stranded travellers in case a carrier goes bust, a review has recommended.
The Airline Insolvency Review's final report, which was published today, says the new scheme is needed to protect every passenger who has a return ticket from the UK if they become stranded abroad, as currently only about 80% of passengers leaving the UK have some form of protection.
It estimates that the scheme would cost less than 50p for each passenger on average, but acknowledges this fee may be passed on to passengers by the airlines.
Several air carriers have gone bust within the past 18 months including Monarch Airlines and Flybmi.
What does the review recommend?
The review was launched following the collapse of Monarch Airlines in October 2017, during which 85,000 passengers were repatriated – in the UK's largest peacetime repatriation operation – by the Civil Aviation Authority (CAA).
The Government asked the airline regulator to repatriate all passengers, regardless of whether or not they had protection (see below for more details), as it said there were too few seats available on other airlines flying the same routes, meaning passengers could be stranded for days or even weeks.
Following the Monarch failure, the Airline Insolvency Review was launched. Its key recommendations are:
Proposals for a new flight protection scheme costing up to 50p per person on average. This would protect passengers if an airline became insolvent while they were abroad.


Allow an airline's own aircraft to be used to repatriate its passengers. A new law would need to be passed by Parliament to allow an airline to keep flying, so it can get passengers home, for a short period after it goes into administration.


Improve awareness and take up of safeguards which protect customers with future bookings when airlines collapse. This includes travel insurance and credit and debit card protection.
How can I protect myself if an airline goes bust?
The review's recommendations will now be considered by the Government, but here's what you can do to protect yourself in case your airline goes bust:
Ticket cost more than £100? Pay on credit card. If each individual ticket you're purchasing costs £100 or more, and you pay for it, or even just the deposit, by credit card, then your credit card company is as equally liable (as the retailer) under Section 75 of the Consumer Credit Act.

So you may be able to claim from your credit card firm. See our Section 75 guide.


Flight less than £100 or paying on a debit card? Try chargeback. Unlike Section 75, the chargeback scheme isn't a legal requirement, it's just a customer service promise.

But it's worth trying and when other travel firms have collapsed previously, we've seen successful claims from people using this. You may be covered by the Visa, Mastercard or American Express protection schemes. See our Chargeback guide for details of how to claim.


Get travel insurance with scheduled airline failure cover. Not all policies will cover you if your airline goes bust, so check if your policy does.

As always, buy the insurance as soon as you've booked the travel. See our Travel Insurance guides.


Check if you're ATOL-protected. Package holidays with flights have ATOL protection. ATOL is the name of the protection scheme run by the CAA. All UK firms selling holidays with air travel must be signed up to ATOL (look for the logo) to protect you if a travel firm goes bust.

If the worst happens, under ATOL you'll get a refund for your holiday or an alternative holiday/transport.


For cruises and package holidays without a flight, look for ABTA protection or similar. If the package you book doesn't include a flight, you'll get a different kind of protection.

If the firm you book with is a member of a travel association such as ABTA (look for the logo), in a similar way to ATOL it provides financial protection if you make a booking and the travel company goes bust. See our Holiday Rights guide for more.
What does the Government say?
Transport Secretary Chris Grayling said: "We will now consider the range of options put forward by the review, and will work to swiftly introduce the reforms needed to secure the right balance between strong consumer protection and the interests of taxpayers."
For all the latest deals, guides and loopholes simply sign up today – it's spam-free!
Join the MSE Forum discussion